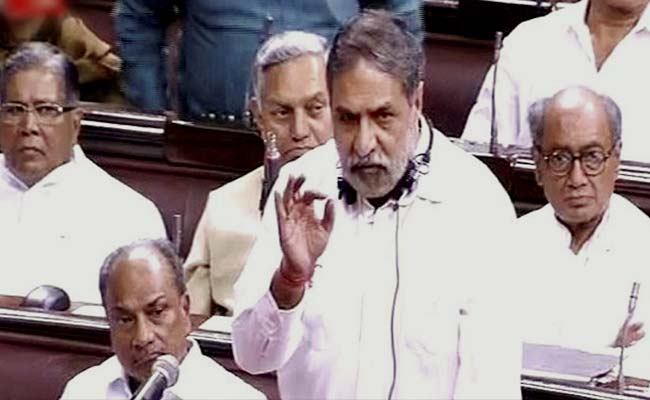 Highlights
At a rally, PM alleged Italian court had named Mrs Gandhi in bribery case
Won't PM's remarks influence CBI probe into scam, ask Congress MPs
Congress MPs demand PM apologise, make a statement in Parliament
New Delhi:
Congress today created pandemonium in the Rajya Sabha, forcing two adjournments in the pre-noon session over Prime Minister Narendra Modi's allegation during an election rally that an Italian court had named Sonia Gandhi in the AgustaWestland chopper bribery case.
They asked how could the Prime Minister make such allegations when the Defence Minister had not stated this in his reply to debates on the controversy in both Rajya Sabha and Lok Sabha last week and sought to know which court was PM Modi quoting.
Congress members trooped into the Well of the Upper House shouting slogans like "Pradhan Mantri jhoota hai (Prime Minister is a liar)" and demanding an apology from him, forcing Deputy Chairman PJ Kurien to first adjourn the proceedings for 10 minutes and then till 12:00 hours.
The party members said when the government during the reply to debate on the controversy in both Houses did not draw any reference to Mrs Gandhi, how could the Prime Minister make a such a statement outside Parliament, and that too when the House was in session.
Raising the issue, Leader of the Opposition Ghulam Nabi Azad (Congress) said no member in Lok Sabha or Rajya Sabha during the debate on AgustaWestland deal said the UPA leadership took money.
Claiming that the Congress had demanded stringent action against any leader or officer found guilty in the bribery case, he said PM Modi had during poll rallies in Kerala and Tamil Nadu said that it was not his statement but an Italian court has said that Mrs Gandhi was guilty in the case.
He asked why PM Modi didn't intervene in the debates on the issue in either of the House and say what he did in his rallies. Defence Minister Manohar Parrikar had not named any UPA leader in his reply, Mr Azad said.
CBI, which is conducting an inquiry in the case, falls directly under the Prime Minister, he said and asked "will the investigating agency not be influenced by such statements?"
Congress' Anand Sharma said that the Prime Minister should come to the House and substantiate the statement he has made.
As Mr Kurien ruled out Mr Sharma's notice under rule 267 to suspend business to take up the issue, Congress members trooped in the Well raising slogans against the Prime Minister.