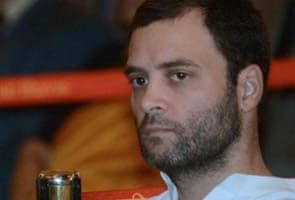 New Delhi:
The Congress has hit back at Janata Party chief Subramanian Swamy and challenged him to prove his allegations of wrongdoing against party president Sonia Gandhi and her son Rahul Gandhi.
"We don't take him (Swamy) seriously...we are not bound to answer the bland charges...It is for Mr Swamy to go to the court if he feels any income tax law has been violated," Congress spokesperson PC Chacko told reporters.
"We want to see whether Mr Swamy will sue the Congress leaders," he said. "We are ready to face it legally."
On Thursday, Mr Swamy said a company allegedly floated by Sonia Gandhi and Rahul Gandhi had done a "sham and bogus" deal to "grab the Rs.1,600 crore worth Herald House" in the national capital and other properties of the group. He also demanded a Central Bureau of Investigation (CBI) probe.
Mr Chacko said Rahul Gandhi's office denied the charges on Thursday as baseless and had issued a legal notice to Mr Swamy for making the allegations.
"Rahul Gandhi's letter amounts to a legal notice," said Mr Chacko. "If there is a violation of any income tax law, we challenge Mr Swamy to prove it."
Information and Broadcasting Minister Manish Tewari also dismissed the charges. He said, "The charges are baseless...the only intent behind them seems to be to tar people with a dark brush."
He said the charges deserved to be rebutted point by point.
While Mr Chacko said the charges were "part of a game to mislead the people", Mr Tewari said "the culture of shoot and scoot after leveling allegations" would vitiate the political discourse in the long run.