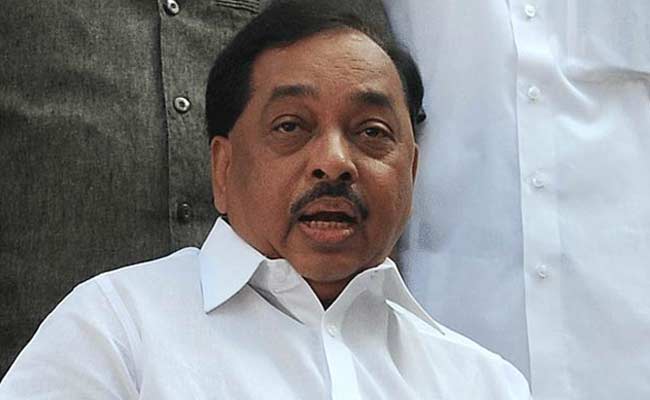 Mumbai:
Senior Congress leader Narayan Rane today accused the Devendra Fadnavis government of creating the controversy over 'Maharashtra Bhushan' award only to divert attention from its failure to provide succor to the state's farmers who are reeling under drought.
Addressing a press conference in Mumbai, Mr Rane alleged that Mr Fadnavis was trying to create social tension.
"The government should reveal on what grounds (historian) Babasaheb Purandare has been bestowed the state's highest award. Fadnavis should have listened to dissenting voices....xhat work has Purandare done which makes him eligible...Did the committee unanimously zeroed in on his name or is it Fadnavis who pushed his name?" the former chief minister said.
"British author James Laine has credited Purandare for his controversial book on Shivaji which is banned in the state. Has the government honoured Purandare for being the publisher of Laine's book?" he asked.
King Shivaji was known the world-over as a warrior king and he didn't need a Purandare to publicise him, Rane said.
Lambasting the Chief Minister over his statement that the government was not scared and would hold felicitations for Purandare all over the state, Rane said, "If Fadnavis was not scared, why hold the award function in high security zone like Raj Bhavan and not on open ground? Insult to King Shivaji will not be tolerated by the Bahujan Samaj (a term generally used for non-Brahmins) and the Maratha community."
Award to Purandare, a veteran writer, was opposed by several groups which accuse him of pro-Brahmin and distorted portrayal of Shivaji's life.
Mr Rane also hit out at Shiv Sena, his former party, saying that in 2003 its workers had attacked the Bhandarkar Oriental Research Institute in Pune for its assistance to Laine for his book. "Now the Shiv Sena wants only the power in Mumbai municipal corporation and the state government," he claimed.
The former Chief Minister also described Mr Fadnavis as an inefficient home minister who had failed to nab the murderers of the rationalist Narendra Dabholkar and the communist leave Govind Pansare.
When asked why Dabholkar's killers could not be found when RR Patil was the home minister (during Congress-NCP rule), Mr Rane said, "That's not correct... I am witness to the fact that the government was close to nabbing the culprits but could not take the case to the logical end."
Asked if the probe had stalled due to BJP-Sena coming to power, Mr Rane said, "I can only say the culprits are enjoying political patronage."