Highlights
Congress called jeweler Nirav Modi "Chhota Modi" in reference to PM
Union minister Ravi Shankar Prasad called it derogatory and demeaning
Congress' attack due to "anger at its defeat" in polls: Mr Shankar
New Delhi:
The BJP has said it takes strong offence to the Congress calling
billionaire diamond merchant and jeweler Nirav Modi
"
Chhota
Modi (Little Modi)" in a dig at Prime Minister Narendra Modi. Union minister and senior BJP leader Ravi Shankar Prasad said it is "shameful, derogatory, scandalous and demeaning" to the PM.
Mr Prasad said many in the country share the surname Modi and attributed the Congress' attack on the PM to the opposition party's "anger at its defeat" in multiple elections.
Congress leader Randeep Surjewala had at a press conference earlier in the day held up a photo of PM Modi with leading Indian industrialists at the World Economic Forum in Switzerland's Davos, asking how Nirav Modi was allowed to leave the country days before a first information report was filed accusing him of a massive
11,360-crore bank fraud
.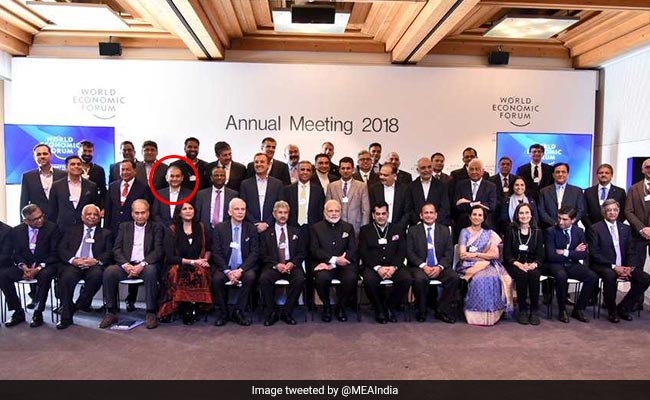 In the photo from late January, PM Modi is sitting in the centre and in the rows of industrialists standing behind is Nirav Modi.
"Guide to Looting India by Nirav MODI 1. Hug PM Modi 2. Be seen with him in DAVOS Use that clout to: A. Steal 12,000Cr B. Slip out of the country like Mallya, while the Govt looks the other way," tweeted Congress President Rahul Gandhi.
Ravi Shankar Prasad said Nirav Modi was not part of the business delegation that accompanied PM Modi to Davos and is believed to have arrived there on his own and joined the group photo. The jeweler had no interaction with the Prime Minister, he asserted, saying, "I wish to deny with full authority that the allegation is wrong. Nirav Modi did not have any private meeting with the Prime Minister.
A Congress leader, the minister said, "had once tweeted an image of a show by Nirav Modi which Rahul Gandhi had attended. What would they want to say about that?"
Mr Prasad said the government would take strong action against
anyone found involved in the fraud
, saying Nirav Modi's assets worth Rs 1,300 crore have been seized and his passport is being revoked. "Even if he is abroad we will investigate. India's standing globally is different now, people listen to our voice today...The investigation is proceeding with great speed."
Nirav Modi left India on January 1, it is now confirmed. The case against him was registered on January 31 and the police posted a "look out" notice for him after that.
Randeep Surejewala asked if Nirav Modi had been tipped off and so could leave the country, saying, "Who is Nirav Modi? The new #ModiScam? Was he tipped off like Lalit Modi and Vijay Mallya to escape by someone within the government?"
Other opposition parties too made comparisons with liquor baron Vijay Mallya, who left the country in the middle of attempts by banks to recover unpaid loans from him.
Left leader Sitaram Yechury demanded a clarification from the government. "If this person had fled India before the FIR on Jan 31, then he is here, photographed at Davos with PM, a week before the FIR, after having escaped from India? Modi govt must clarify," he said, tweeting the Davos photo.
He also alleged, "There is a pattern in how people who have defrauded Banks in India, are allowed to escape by the Modi government."
Delhi Chief Minister Arvind Kejriwal said, "Is it possible to believe that he or vijay mallya left the country without active connivance of the BJP govt?
On Thursday, teams of investigators searched Nirav Modi's properties, a day after Punjab National Bank, India's second-largest government bank, reported that Rs. 11,000-crore was illegally transferred abroad by its own officials from a single Mumbai branch to help the jeweler and others get credit without guarantees and in violation of rules.
The Enforcement Directorate is investigating complaints that Nirav Modi and his associates were involved in cheating Punjab National Bank of over Rs a swindle worth Rs. 280 crore.
The CBI had earlier raided Nirav Modi, 47, his brother, wife and a business associate Mehul Chinubhai Choksi in connection with the alleged swindle.
Nirav Modi, who has figured in the Forbes' list of richest Indians, was booked by the CBI for cheating after PNB sent a complaint to it alleging that the jewellery firm owner, his brother, wife and Choksi entered into a criminal conspiracy with the officials of the bank and cheated it, causing a "wrongful loss".
The fraud was revealed when Nirav Modi's companies sought a fresh loan, PNB has said, stating today that it was the first to detect that fraud and asserting its "commitment to clean banking." The bank has suspended 10 officers.