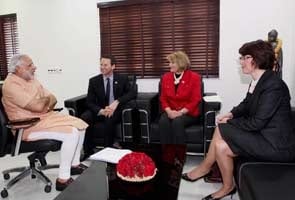 Ahmedabad:
The Congress has accused Gujarat Chief Minister Narendra Modi of bribing a delegation from the US, which visited the state this week, to praise him. The Congress also described the delegation's visit as a marketing gimmick choreographed by public relations firms.
The allegations were made by Gujarat Congress leader Arjun Modhwadia, who said "It is a matter of shame for our state. People were sent here after taking $ 16,000 and they were passed off as an official delegation. This is a fraud, Modi should resign and apologise to the people. (sic)"
A report in 'Hi India', a news portal for South Asians, suggests that the trip, facilitated by the US-based Overseas Friends of BJP, was privately organised and an invitation was circulated via a think tank. The invite said the trip was for a select few and mentioned cost options. But it is not confirmed that the lawmakers actually paid to be part of the delegation.
Republican Congressman from Illinois, Aaron Schock, who led the 18-member US team, today said, "All I would say is our trip here was signed by the appropriate entities in our government, specifically the House of Representatives... so anybody who wants to question the legitimacy of our trip, I would simply like to say that three members of Congress just dont' leave the country (sic)."
The BJP has countered the Congress, saying paying for visits is not part of its culture. BJP leader Sudhanshu Mittal said his party "has no such culture of paying people to come visit and promote us. People from outside came to visit Narendra Modi because of his work."
The delegation of American lawmakers and businessmen met Mr Modi on Thursday and invited him to the US, a country that he has been unable to visit since 2005, when the George Bush administration denied him a visa for his alleged role in the 2002 communal riots in Gujarat.
On Thursday, Mr Schock had said, "We have invited him (Mr Modi) to come over to the US and share with us the work that he has done." He said the team would speak to the US administration about a visa for Mr Modi.
The Gujarat Chief Minister had tweeted after the delegation's visit saying, "Am thankful to the members of USA Congress & business persons for their kind words on Gujarat's development."