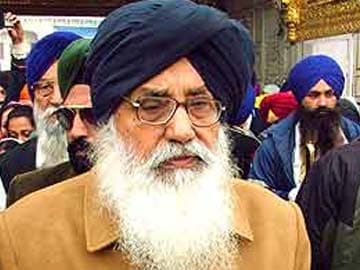 New Delhi:
With the Parkash Singh Badal-led Akali Dal deciding to post armed guards outside the gurudwaras in Haryana to foil the Bhupinder Singh Hooda government's bid to take over the affairs of the Shiromani Gurudwara Prabandhak Committee, or the SGPC, in the state, stage is set for what could be a bruising confrontation between the two sides.
Haryana Chief Minister Bhupinder Singh Hooda had yesterday announced the setting up of a 41-member ad-hoc committee to manage the affairs of the SGPC in his state, a step which was designed to give shape to his stated goal of establishing a separate management committee for the gurudwaras.
The ad-hoc committee has been empowered to manage, supervise and take over the assets of the gurudwaras, including their moveable and immoveable properties. Its members have been asked to steer the affairs of Haryana Sikh Gurudwara Management Committee till a full-time body was constituted.
The Akali Dal-backed SGPC, which has been running the gurudwaras in Haryana till now, has decided to oppose the Hooda government's move, and deployed personnel of an armed task force outside the gurudwaras in the state to resist any forcible takeover.
Punjab Chief Minister and Akali Dal supremo Parkash Singh Badal has also convened a congregation of the Sikhs in Amritsar on July 27 to devise a strategy for countering the Hooda government's move to split the SGPC.
Mr Badal had met Prime Minister Narendra Modi last week and urged him to use his office to oppose the division of the SGPC.