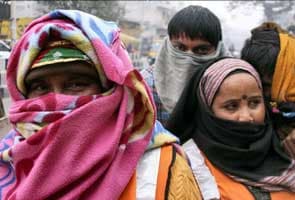 Shimla:
Even as the mercury is seeing an upward trend in parts of North India, higher reaches of Himachal continued to remain in the grip of cold today, with icy winds leading to sub-zero temperatures at various places.
A thick blanket of snow covered the high-altitude areas of Rohtang, Kunzam, Saach and Chansel, which shivered due to sharp decline in mercury as temperatures settled there between minus 7 to minus 12 degrees Celsius.
Similarly, Keylong and Kalpa in Lahaul and Spiti and Kinnaur districts recorded minimums of minus 2.1 and 0.6 degrees Celsius, while the famous tourist resort of Manali recorded a night temperature of 1.4 degrees, two to three notches below normal.
The minimum temperatures dropped to 5.5 degrees at Bhuntar, 8 degrees at Sundernagar and Solan, 8.2 degrees in Shimla, and 12.5 degrees at Una and Dharamsala.
Una also recorded the maximum temperature of 32.2 degrees while Sundernagar and Bhuntar recorded highs of 27.4 and 26.4 degrees Celsius.
The local MeT office has predicted dry weather in the region during next 72 hours, with gradual increase in maximum temperature and rains or thunder storm in the middle of next week.