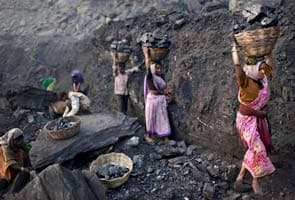 New Delhi:
The coal scandal has singed the Congress on many fronts. The opposition BJP has paralysed parliament, making it nearly impossible for any legislation to be considered, as it demands the Prime Minister's resignation.
A Congress parliamentarian and his brother, a Maharashtra minister, have been accused of cheating and conspiracy by the CBI after a company they are associated with was raided. But the Congress, struggling to refute allegations of a coal policy that allowed graft, is trying to spotlight a sweetheart deal that could embarrass the BJP- its recipient was Ajay Sancheti, a businessman and Rajya Sabha MP known for his proximity to Nitin Gadkari, who heads the party.
The Congress' attack is based on a report by the state auditor of coal-rich Chhattisgarh, shared in April this year. The Comptroller and Auditor General or CAG of Chhattisgarh , where the BJP is in power, said that a deal with Mr Sancheti's SMS Infrastructure cost the government upto 1000 crores in losses.
The BJP, which governs the state, has denied the charges. To prove there was no political influence in the deal, the BJP has said that when the company was allocated coal fields, Mr Gadkari had not yet been made the BJP president, and Mr Sancheti was not a Rajya Sabha MP.
"What are the charges against Ajay Sancheti? I have hundreds of friends in Nagpur who are businessmen. I have nothing to do with Ajay Sancheti. What is the media's interest in saying that he is Nitin Gadkari's close associate? Is there any evidence against me?" Mr Gadkari asked in April on NDTV's weekly show, Walk the Talk.
In July 2007, two coal fields - Bhatgaon2 and Bhatgaon 2 Extension- were allocated to the state-run Chhattisgarh Mineral Development Corporation (CMDC). A year later, the state-run firm asked private players to bid for a joint venture. Only one bid - that of SMS Infrastructure - was deemed acceptable. The firm is linked to Ajay Sancheti, a businessman considered close to Mr Gadkari. The auditor finds that though "the coal blocks were contiguous and the quality of coal available in both of them was similar," the state-run mining company accepted a much lower bid from SMS Infrastrcuture for Bhatagaon Extension 2, thereby losing 1000 crores.
The CAG also finds that rather than giving the mining rights to the only bid that was deemed acceptable, the state should have asked for a new round of applications to 'generate fair competition instead of justifying the low rate quoted by the lone bidder'.
In its defense, the state-run mining company has said that the cost of extracting coal was higher for the second coal block, which is why it accepted a lower bid from Mr Sancheti's company.
Party leader Arun Jaitley told NDTV that Mr Sancheti's bid for the second coal block was above the reserve price, and that he went through a tender process.