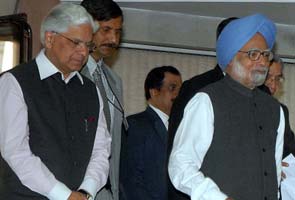 New Delhi:
As the clamour for
Ashwani Kumar's
exit as the Union Law Minister escalates, the Congress' core group is meeting for the second time in as many days. At yesterday's meeting, some Congress leaders told Prime Minister Manmohan Singh that the minister has become a liability for the government, according to sources. However, the sources added that the PM, who has backed Mr Kumar so far, did not respond.
On Monday, the CBI is likely to admit to the Supreme Court that the minister asked for some language to be diluted in the agency's report on its coal investigation before the document was given to judges. Mr Kumar has described the changes as "suggestions of a minor nature." The CBI, in an affidavit, is likely to suggest otherwise. (
Read
)
The fact that Mr Kumar saw the report at all has landed the government in a mega-scandal, with the opposition accusing the government of trying to interfere in the CBI's inquiry into an allegedly flawed policy on how coal fields were allocated to private firms.
Much of this Parliament session has been paralysed with the opposition demanding the resignations of the Prime Minister and Mr Kumar, who has not offered to quit, further antagonising may within his own party.
They say that whether he is allowed to remain in office will depend heavily on the Supreme Court's reaction to the CBI's testimony on the minister tomorrow.
The Congress will also decide the fate of Railway Minister Pawan Kumar Bansal whose nephew has been arrested for accepting a bribe to fix a plum position on the Railway board.