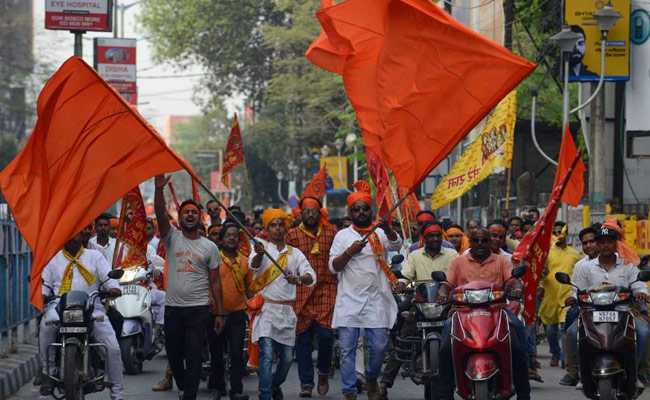 New Delhi:
Trouble erupted in pockets of Bengal on Ram Navami as the opposition BJP held rallies across the state, sometimes despite the disapproval of the local administration. Clashes took place in Purulia in which one person died, reported ANI, and a puja pandal was attacked in Bardhaman district. Defying the government's ban on carrying weapons, a number of heavyweight state BJP leaders, including party chief Dilip Ghosh, were seen participating in processions with traditional Indian weapons like swords and tridents.
Unlike north and western India, Ram Navami, the birthday of Lord Ram, has never been high up on Bengal's festival calendar. But it has taken political centrestage over the last few years, as the BJP tried to gain a foothold in the state.
In Purulia, one person died and four others, including three police officers, were injured as local BJP members tried to hold a rally for which they had no permission. Fifteen people were arrested later. Armed children were seen participating in the rally, reported news agency IANS, quoting Ananya Chatterjee Chakraborty, chief of the state's child rights commission.
In Bardhaman, the BJP claimed the workers of the state's ruling Trinamool Congress were behind the attack.
Though Chief Minister Mamata Banerjee had said weapons will be allowed only in areas where people traditionally held Ram Navami rallies carrying weapons, activists were seen carrying weapons in many areas.
At a rally in West Midnapore, state BJP president Dilip Ghosh participated, armed with a sword. The party's women wing president Locket Chatterjee was seen carrying a trident. Party's national secretary Rahul Sinha was also seen brandishing a weapon at a rally, reported IANS.
The BJP had said they would carry weapons in some areas. "If the administration tries to forcibly stop the rallies, clashes may occur," Mr Ghosh had said.
Late in the night, five more policemen were reported by IANS to be injured in Purulia's Beldi village as clashes broke out during a Ram Navami rally.
After last year's clashes in pockets of Purulia and Bardhaman districts, Chief Minister Mamata Banerjee has made it clear that no "hooliganism" will be tolerated. "We are not against organisations holding Ram Navami processions but they have to be peaceful," Ms Banerjee had said. The state police was asked to step up security.