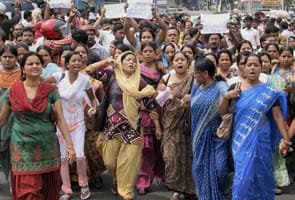 Kolkata:
A special two-day session of the West Bengal Assembly, convened to introduce a bill to protect investors better, begins today. This move comes in the wake of the Saradha Group chit fund scam, in which lakhs of investors have been duped of their savings.
The session was called for after an all-party meeting on Friday. The new bill -Interest of Depositors in Financial Establishments Bill 2013 - will be tabled today.
The new bill makes provisions for the setting up of a special economic wing to take action against defaulting companies within six months. It also provides for confiscating property and assets of such companies.
Questions are being raised though over why Chief Minister Mamata Banerjee's government is introducing a new bill instead of making amendments to and passing a pending bill that was introduced by the Left government in 2009. The ruling Trinamool Congress' defence is that the new bill is more effective because of the provisions it moots. The Left says there are only minor differences between the two bills.
The Saradha Group's chit fund went bust two weeks ago and its head,
Sudipta Sen
, and his associates have been arrested.
Before he was arrested from a hotel in Kashmir, Mr Sen sent a letter to the CBI in which he listed 22 people who he accuses of blackmailing or "using" him to make money. Among them are senior leaders of the Trinamool Congress and national-level politicians.