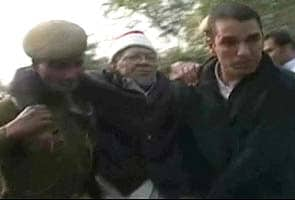 Jaipur:
A decision on the mercy petition of Pakistani prisoner Dr Khalil Chishty is bound to be delayed for some more time now.
Rajasthan Governor Shivraj Patil has sought more information on the case.
The move has left the family deeply disappointed.
"We have a humble request to the Government of India and all those who will decide his case: Please release him at the earliest as his health can't endure jail life. We want that he be allowed to go back and meet his children. He's at such an age that we don't know how long he will survive," said Yasir Chishty, nephew of Dr Khalil Chishty.
The 80-year-old Virologist is in the Ajmer Jail in connection with a murder case of 1992.
Human rights activists have been lobbying for Dr Chishty's release for months; even the Prime Minister had asked Home Minister Chidambaram to examine if the request of the Supreme Court Judge Markandey Katju to pardon Dr Chishty could be considered on "humanitarian" grounds.
(PM asks Chidambaram to see if Pak prisoner can be pardoned)
A heart patient for over 30 years, Dr Chishty can't even walk unaided. But Governor Patil's decision implies he'll stay in jail much longer. As his case gets trapped in red tape again, activists say the delay in Dr Chishty's release is most untimely as it comes just ahead of the Indo-Pak talks.
"I think for Indo-Pak relations Dr Chishty's case would have helped us have the moral high ground. When our Foreign Secretary Nirupama Rao would have met her counterpart, we could have begun by saying that see, we have released Dr Chishty, how about releasing Sarabjit Singh?" said Kavita Srivastav, Gen Secy, PUCL, Rajasthan.
Activists also point out that Dr Chishty has already stayed away from his family for almost 20 years, far longer than even a life sentence of 14 years.
As government authorities examine every aspect of his case, one hopes they won't forget that at stake is the life of an ageing and ailing human being for whom each day's delay could prove costly.