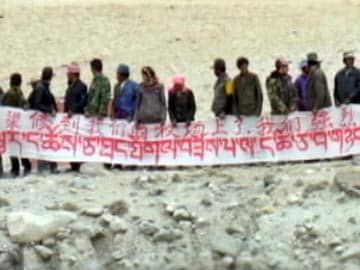 Leh/New Delhi:
The stand-off in Ladakh's Chumur area took a new turn today with soldiers of China's People's Liberation Army (PLA) pitching seven tents well within the Indian territory and showing no signs of withdrawing from the territory.
The Chinese, who had arrived in vehicles on Saturday in Chumur, 300 km from Ladakh's capital Leh, started erecting the tents in the Indian territory despite repeated warnings by the Army to vacate the area, official sources said.
Nearly 100 personnel of the PLA are believed to be present around Point 30R, a strategically important post, as it helps India to keep a vigil deep inside the occupied territory of Chinese, they said.
The fresh transgression is in addition to the 35-odd Chinese personnel who are already camping at a hillock in the Chumur area, the sources said.
The Chinese soldiers were demanding that Indian Army should withdraw simultaneously from the area but the Army is sticking to its stand. The Chinese soldiers had retreated to their territory on Thursday night.
The post at Point 30R, which has been erected by the Indian Army as an observation post dominating the Line of Actual Control (LAC), has been frequented by the PLA. The post gives advantage to India in keeping a vigil on the Chinese activity deep across the border.
Chinese helicopters were again seen in action for dropping food packets for its soldiers but none of them violated the air space. The food packets were later collected by the PLA personnel and stored inside the tents.
The tension in this area erupted on Sunday when some of the Chinese workers, who were constructing road on their side, started entering into the Indian side and also claimed that they had orders to build road upto Tible, five km deep into the Indian territory, sources said.
Chumur, the last village in Ladakh area bordering Himachal Pradesh, has been a bone of contention between the two countries with China claiming it to be its own territory.
In 2012, the PLA dropped some of its soldiers in this region and dismantled the makeshift storage tents of the Army and ITBP.
Chumur had become a flashpoint during the fortnight long stand-off last year in Daulat Beg Oldie (DBO) as the Chinese side had objected to overhead bunkers erected by the Indian side.
As part of an agreement reached at the flag meeting to end the stand-off from April-May 2013 at DBO, the Indian side had to dismantle some overhead bunkers in Chumur.
The area witnessed activity again on June 17 when Chinese troops walked away with an Army surveillance camera which was meant for keeping an eye on the PLA troops patrolling there. The camera was, however, returned a few days later.
Last winter, Chinese soldiers attempted to enter this area riding on horses.