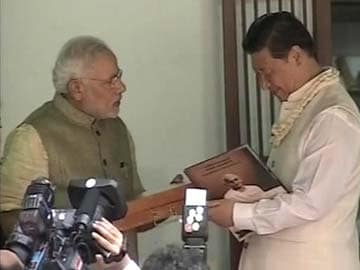 Ahmedabad:
Chinese President Xi Jinping today paid tributes to Mahatma Gandhi and sat bare feet to spin charkha during his visit to Sabarmati Ashram in Ahmedabad.
Prime Minister Narendra Modi and other dignitaries received President Xi at Sabarmati Ashram.
Source at the ashram told IANS that the Chinese president was taken to the black and white photograph exhibition on the Indian freedom struggle and historic Dandi march.
Gandhiji's famous mass movement - the Dandi march - began from the Sabarmati Ashram March 12, 1930. Mahatma Gandhi and 78 companions embarked on an unprecedented and unique march to protest the British salt law.
Sources added that President Xi took off his shoes and sat bare feet on the floor to spin Charkha at the Hruday Kunj where Mahatma Gandhi lived. PM Modi too joined him.
President Xi wore a white Khadi jacket and shirt when he visited Sabarmati Ashram.
The Chinese president wrote in the visitor's book of the ashram with the hymn "Raghupati Raghav Raja Ram" being sung in the background.
PM Modi as well as Gujarat Chief Minister Anandiben Patel garlanded President Xi with Khadi threads.
The Hruday Kunj - with its elegant, airy and simple architecture - is where Mahatma Gandhi spent a good period of time.
The ashram was set up June 17, 1917, on a piece of land on the bank of the Sabarmati river.
The prime minister presented to President Xi a book "Gandhi in Amdavad" published by the ashram, a replica of Mahatma Gandhi's charkha and a historic picture of Gandhiji's famous Dandi march.
Both President Xi and PM Modi sat at Hruday Kunj for a while.