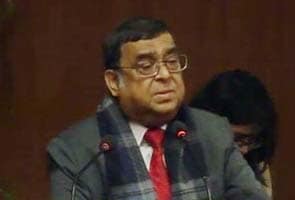 Kochi:
Chief Justice of India Altamas Kabir today stressed the need to focus on childcare and rehabilitation in the Juvenile justice system, saying people should be sensitised to do something for such children who have been marginalised.
"We need to focus on this section. These children need our prime attention. We need to sensitise ourselves to see that we do something for this part of society which has been marginalised," he said.
The CJI, who is also patron in chief of National Legal Services Authority (NALSA), said it is high time society took up their responsibility and corrects what is going on.
He suggested that such children also be adopted and provided homes.
He was speaking at a workshop after inaugurating the Additional District and Sessions court for trial of cases relating to sexual violence towards women and children here.
The CJI said he had requested Chief Justices of various High Courts to set up a court in every district where these kind of cases can be taken up, so the child can get a home and adopted parents would get a child. It works two ways, he said.
There is need to create in them a mindset that they are part of society and have a responsible role as well, he said, adding they also need to be brought to the mainstream.
Chief Minister Oommen Chandy said government had decided to introduce the 'Kerala Privacy and dignity of women bill 2013' to protect the dignity of women. This would be tabled in the coming session of the assembly, he informed.
Admitting that conditions and facilities in juvenile homes and correction centres were not satisfactory, he said steps would be taken for their improvement.
The country had seen lot of public protest after the Delhi gang rape incident. "We must realise that we cannot sit idle till women and children feel secure", he said.
"Kerala has a positive female population and we want the state to be known as a model state where women and children are safe", he said.
Steps are also being taken to rehabilitate victims of such cases, he said.
Minister for Social Welfare Department M K Muneer said government had plans to revamp the juvenile homes in the state within a year. There were also plans to set up a child rights commission for protection of children.
Government was also going to lay down the framework for caretakers and NGOs, he added.
Justice K M Joseph and Dr Prabha Sagar, a psychologist, also spoke on the occasion.