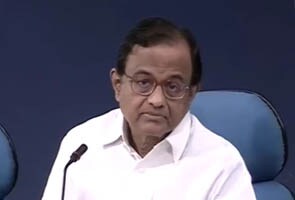 New Delhi:
Union Home Minister P Chidambaram has raised an alarm over the manner and processes followed by Nandan Nilekani's Unique Identification Authority of India (UIDAI) which issues
Aadhaar
cards, partly for security reasons, and because Mr Nilekani's plans to collect bio-metric data have not been formally approved by the Cabinet. The entire project costs about Rs 17,000 crore.
Mr Chidambaram has, in letter dated November 11, 2011 to Prime Minister Dr Manmohan Singh, rebutted the plan proposed by Mr Nilekani.
The Home Minister has made clear his discomfort at the fact that Mr Nilekani's project has no Cabinet clearance and could, therefore, be questioned at a later date. Sources tell NDTV that in a meeting held on September 5, the Home Minister also made his apprehension clear.
Mr Nilekani was initially authorised to enumerate a population of 120 crore - as a pilot project to work out the de-duplication of enumeration. However, without any Cabinet clearance, UIDAI was allowed to enumerate another 10 crore of population.
Now, Mr Nilekani wants to take over the entire process with the Home Ministry and the Register General of India - only authority empowered by the law to enumerate and store data on the population - to play second fiddle, that too, without any Cabinet clearance - a clear indication of the clout that Nandan Nilekani carries with the PM who was also instrumental in inviting Mr Nilekani to join the Cabinet.
It is with this uneasiness that the Home Minister has asked the Prime Minister and Deputy Chairman of the Planning Commission to bring the issue before the Cabinet and decide who should be made responsible for collection of bio-metric data. He has also told the Prime Minister that not only efforts are being duplicated, but states are confused as to which scheme - Home Ministry's National Population Register or
Aadhaar
- they should follow.
In his letter, Mr Chidambaram has said that he is concerned about the sanctity of the database which is the basis for India to check illegal migration and keep track of its citizens.
The Home Minister has also made it clear that anyone - the Register General of India under Home Ministry or UIDAI could enumerate and collect the bio-metric data - but it requires a clearance from the Cabinet. The Home Minister's plea for a Cabinet nod, perhaps, indicates his newly acquired distaste for courting controversy following the controversy over the 2G scam.
What has perhaps created a bigger security scare is the fact that
Aadhaar
has been issued to more people in several blocks across the country than counted by Census.
For example, at Amberpet in Hyderabad, the Census counted 15,000 people whereas
Aadhaar
enumerated over 21,000 people, showing an increase of 140 per cent. Similarly, in Secunderabad, the Census after going from house to house found about 13000 people whereas
Aadhaar
enumerated over 37000 people - a rise of 280 per cent.
It is not only security that is bothering the Home Minister but also the fact that under the law only the Home Ministry is authorised to enumerate and maintain records.
Today, following Mr Chidambaram's letter, Principal Secretray to PM Pulok Chatterji met Union Home Secretary R K Singh and Registrar General of India (RGI) C Chandramouli.
There was no response from Mr Nandan Nilekani on the Home Minister's letter despite repeated attempts.