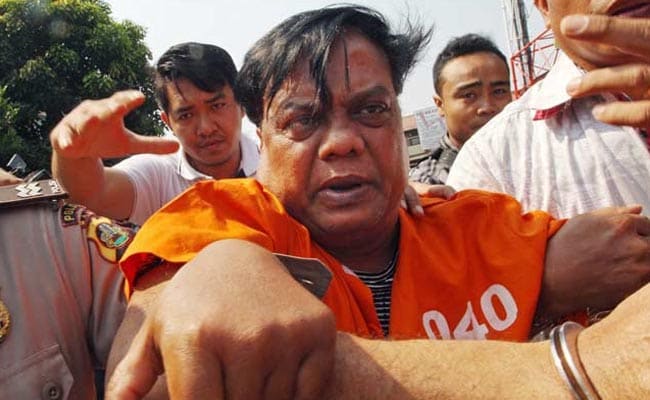 Mumbai:
Gangster Chhota Rajan had ordered the killing of senior journalist J Dey as he wanted to send out a message to the media, general public and his rivals that his organised crime syndicate was still "alive and kicking", observed a special court here.
Special MCOCA judge Sameer Adkar, in his judgement in Mr Dey's murder case delivered on Wednesday, also said that Rajan's "ego would have been hurt" by the articles written by the journalist.
The court
sentenced Chhota Rajan
and eight others to life imprisonment for the murder committed here in June 2011 but acquitted two others,
including a former journalist Jigna Vora
, citing lack of evidence.
In the 599-page judgement, Mr Adkar observed that Rajan was angered by the articles written by Mr Dey and felt that the journalist was showing him in a poor and weak position and was glorifying his rival Dawood Ibrahim.
"When the statements made by J Dey in the articles are considered from the point of view of a criminal mind then certainly these would anger a criminal mind. On reading such news, a criminal mind will feel that he was undervalued, demeaned and was shown to be very weak in comparison to his arch rival. Ego would have been hurt," the judgement said.
It added that the articles written by J Dey had the potential to affect the activities of the organised syndicate as the articles not only showed Rajan in a very weak position but also desperate to show that he had a very strong hold in the underworld.
"Criminals and gangs thrive on the fear factor. In order to ensure their gang flourishes, they instill fear in the minds of others. The fear so created would further the cause of the syndicate. Therefore, if Rajan was shown to be in a weak position then people would not fear him," the order said.
"By committing murder of J Dey, who was a reputed journalist, a clear message was sent to the media and through the media to the general public and the rivals that the organized crime syndicate of Rajan was very much alive and kicking and nobody should dare to say anything against him and if they did so then they would meet the same fate as J Dey," Judge Adkar said.
He added that the prosecution has proved that Rajan was angry with Mr Dey as the journalist was giving credit to others for the work done by him (Rajan).
"Prosecution has also proved that Rajan suspected that J Dey was working for Dawood Ibrahim. It cannot be forgotten that while in the courts of law it is said that suspicion howsoever strong does not take the place of proof but in the underworld slightest of suspicion about one's conduct can lead to his elimination," the judgement said.
The court added that except for this advantage there was no pecuniary gain or economic advantage behind the murder.
"Apart from these articles, J Dey was also in the process of writing and publishing one book related to Rajan and another book on Dawood Ibrahim. As per the prosecution, these books portrayed Rajan as a small time criminal and at the same time glorified Dawood Ibrahim which made Rajan angry," the court said in its order.
The court also accepted the extra-judicial confessions made by Rajan in the phone calls he made to four crime reporters taking responsibility for the killing and said that he did so as J Dey was tarnishing his image.
Judge Adkar said Rajan was apparently irked with Mr Dey's writings on his diminishing clout in the underworld. He, therefore, chose to announce to some media persons that he had got Mr Dey killed, hoping that it would be perceived as a show of his strength, or a warning to others.
"It may be appropriate to answer one question which should arise in the mind of every prudent person - 'Why criminals phone (call) to the media and claim responsibility for the crime committed by them'?" the judge said.
"The answer to this question is not that difficult. Most often, such calls are made to gain attention. Most people like being seen as an authority and getting the attention that makes them feel important," he observed.
Additionally, a criminal or an accused may want to give his side of a story if he feels that he is being misrepresented as he would not like it if he is put in a false light, judge Adkar said in his judgement.
"It could also be because criminals have a desire to promote themselves. They may not be paid for the interview but they also do not have to pay to the journalist either. It is an easy way of generating publicity," he noted.
The judge said a criminal would be fairly confident that he will never be caught afterwards as he feels he is untouchable. "Some may not see themselves as criminals but as misunderstood, hard workers being oppressed by the system."