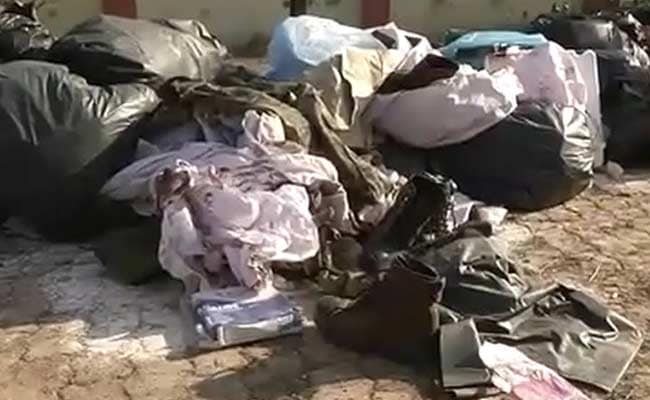 Raipur:
The uniforms of 14 men who died in an ambush by Naxals on Monday in Chhattisgarh were found on Tuesday night along with garbage outside a hospital where the bodies of the martyrs were autopsied. The discovery has created a huge embarrassment for the government of Chief Minister Raman Singh.
Mr Singh has been asked to order an inquiry on "the insult of CRPF martyrs's uniform", tweeted Union Home Minister Rajnath Singh, adding the chief minister must "punish those involved."
"If the government can't respect the uniform of a martyr, what will they do for us? Compensation is not everything - we have lost our son. If it was a politician's son, would they have treated him like this?" asked Dharampal Punia, who lives in Jamalpur village near Hapur, Uttar Pradesh and whose young son Kuldeep is among those killed.
The men who died were from the para-military Central Reserve Police Force (CRPF). They were killed while returning to their camp at a village after an operation in the deep forest region of Sukma. 12 other CRPF soldiers were injured.
A man who saw the uniforms outside the mortuary at a government hospital in the state capital of Raipur took photos of his discovery. The opposition Congress then reached the hospital and took the uniforms to the party office, alleging that the state government had dishonoured men who died in the line of duty.
Sources in the CRPF say the uniforms were accidentally discarded by janitors at the government hospital.
The Congress says the BJP government must apologise. "We rushed there (to the hospital) after learning that the uniforms of the slain CRPF men were lying in a dustbin filled with garbage," said Congress leader Vikas Upadhyay.
The bodies of the martyrs left Raipur on Tuesday immediately after a state funeral ceremony; each of the soldiers will be cremated with full state honours in their home towns and villages.