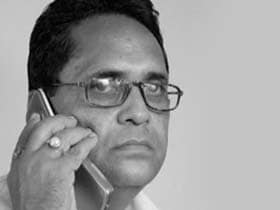 Raipur:
Chhattisgarh Congress chief Nand Kumar Patel, who was missing after a Maoist attack in Sukma on Saturday, was found dead today. His body was found today morning near the site of the attack.
Mr Patel was kidnapped by the attackers, who killed Congress leader Mahendra Karma and injured former union minister VC Shukla. State Congress spokesperson Rajesh Bissa said Mr Patel's son, who was also kidnapped yesterday, was found dead this morning. (
Watch: report from Ground Zero
)
Around 250 suspected Naxals in civilian clothes struck a convoy of Congress leaders during the party's Parivartan Rally on Saturday, killing at least 25 people. Senior party leader Mahendra Karma and former legislator Uday Kumar Mudaliar were also killed in the attack. 32 people, including 20 policemen, who were accompanying the convoy which was on its way back from Sukma to Jagdalpur, were also injured in the attack.
Prime Minister Manmohan Singh and Congress President Sonia Gandhi visited the injured in hospital today. Dr Singh said, "First priority is that the injured should get the best facilities. We all have to come together to fight." (
Statement from President Pranab Mukherjee
)
Mrs Gandhi condemned the attack, describing it as an "attack on democratic values". She added, "appreciate the courage, bravery of Congress leaders".
The Prime Minister has announced Rs. 5 lakh each in aid to the families of those killed. Each of the injured will received Rs. 50,000 in aid.
In the state, Congress leaders have alleged that party leaders were not provided adequate security by the BJP dispensation despite Naxal threats. A shaken Ajit Jogi, a former Chief Minister, who was present at the rally, said, "I can't believe that people who I met just a few hours earlier have been attacked. There were not adequate security arrangements."