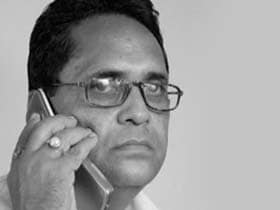 New Delhi:
Chhattisgarh Congress chief Nand Kumar Patel is missing after an alleged Maoist attack today in the state's Jagdalpur district. Reports say Mr Patel may have been abducted by the attackers, who killed Congress leader Mahendra Karma and injured former union minister VC Shukla. According to reports, Mr Patel's son Dinesh was abducted but was later released.
Mr Patel's other son, Umesh, had appealed to the attackers to free his father and brother unharmed. "I appeal to the Naxals to release my father and brother," Umesh said.
Prime Minister Manmohan Singh, who spoke to Chhattisgarh Chief Minister Raman Singh, also appealed to the attackers to release all those who may have been abducted at the earliest.
The PM was later briefed by Mr Singh on the measures being taken to trace Mr Patel and others, who are feared abducted.
Congress president Sonia Gandhi has condemned the attack describing it as an "attack on democratic values".
In the state, Congress leaders have alleged that party leaders were not provided adequate security by the BJP dispensation despite Naxal threats. A shaken Ajit Jogi, a former Chief Minister, who was present at the rally, said, "I can't believe that people who I met just a few hours earlier have been attacked. There was not adequate security arrangements. I want to call a state bandh tomorrow."