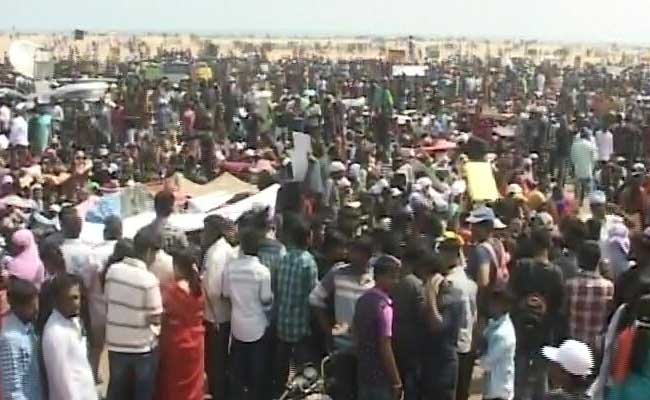 Chennai:
Chennai's Marina Beach has been a favourite with protesters. But for more than a decade, protests, demonstrations, agitations etc have been totally banned along the shoreline. The Chennai Police yesterday reiterated its ban on protests or unlawful gathering on the Marina Beach and warned of arrests if protesters are found assembling here.
The May 17 Movement, a Tamil National Civil rights activist group fighting for the rights of Sri Lankan Tamils, has called for a candlelight tribute behind the Kannagi statue on the Marina this evening, in memory of the more than a lakh Lankan Tamils killed in the final phase of the war in Sri Lanka. Baahubali actor Sathyaraj, too, has released a video message requesting people to join the meet.
However, the police released a statement in anticipation that said, "It's illegal to gather or hold protests along the beach and those who violate will be arrested and prosecuted."
The organisers say they would go ahead anyway. Tamil activist Thirumurugan Gandhi, founder of May 17 Movement, said, "Gathering near water bodies to remember the dead is an age-old tradition and no law can stop us. There's been a genocide of Tamils, even the assembly has passed resolutions. The government should be doing this. Will they stop people gathering on the Marina to pay respects to late Jayalalithaa or MGR on the Marina?"
The Sri Lankan Tamils issue has been an emotional one. For decades, Lankan Tamils have been fighting for equal rights and a separate homeland in Sri Lanka. The civil war in the island nation spearheaded by the banned LTTE ended in 2009 with the killing of its chief Velupillai Prabhakaran. Over a lakh Tamils were reportedly killed during the final phase of the war according to a UN-appointed committee.
But for the police, handling protesters is a nightmare. In January, more than 30,000 pro-Jallikattu protesters gathered along the Marina for more than a week demanding lifting ban on the controversial bull-taming sport of Jallikattu. The protests ended in violent clashes as police attempted to evict protesters. They want to avert a repeat of a similar stir.