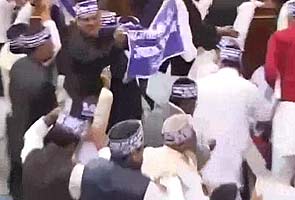 Lucknow:
The Uttar Pradesh Assembly reasserted its claim today as home of the worst-behaved legislators in the country.
Many members of Mayawati's party were seen standing on desks and throwing wads of paper at the state's governor, BL Joshi, as he tried to address the House on the first day of its new session. The Governor was quickly taken away by security guards.
Members of the Bahujan Samaj Party (BSP), who shouted loudly and carried placards, say they are protesting against Chief Minister Akhilesh Yadav and his inability to maintain law and order in the state.
They said they also wanted to highlight his mishandling of the recent stampede at the Allahabad railway station in which more than 30 people were killed. The tragedy occurred as lakhs of people returning from the Kumbh Mela swarmed into the station.
The Chief Minister was present during today's chaos. Last year, he led the Samajwadi party to an emphatic victory over Mayawati's BSP, and replaced her as Chief Minister.