New Delhi:
Andhra Pradesh Chief Minister Chandrababu Naidu, who is trying to stitch an alliance of all non-BJP parties, met Congress chief Rahul Gandhi and other opposition leaders in Delhi today. Mr Naidu, who had a bitter history with the Congress, declared that it was a "democratic compulsion" to join hands in order to take on the ruling BJP in the 2019 national election. "We have a past," agreed Rahul Gandhi, fielding questions in a joint press meet with Mr Naidu outside his heavily protected Tughlaq Lane home.
The preliminary discussions between the Congress and Mr Naidu's party have been conducted by state leaders and the two sides are trying to evolve a seat sharing formula. This will be the Congress' second key tie-up in the south. In May, the party had tied up with former Prime Minister HD Deve Gowda's Janata Dal Secular to keep the BJP out of power in Karnataka.
Mr Naidu walked out of the NDA in March after failing to make any headway with his demand for special status for Andhra Pradesh. He has since taken up the role of a "facilitator" in evolving a united opposition. In that capacity, he has already met Aam Aadmi Party chief and Delhi Chief Minister Arvind Kejriwal and Dalit powerhouse Mayawati.
Here are the HIGHLIGHTS on Chandrababu Naidu's meeting with Rahul Gandhi: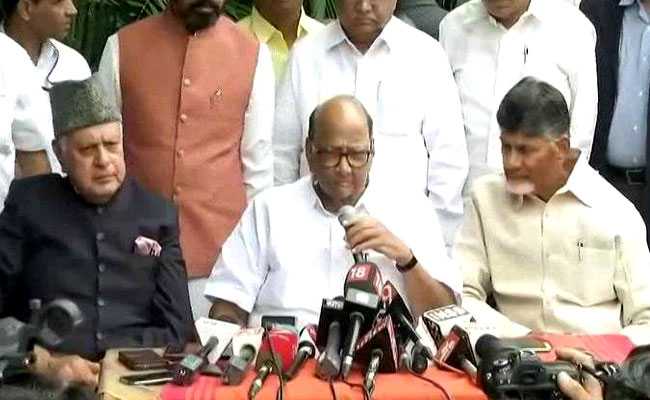 Sharad Pawar
What is happening in CBI, What is happening in ED, What is happening in RBI is for everyone to see
Chandrababu Naidu didn't get any help. We are here today to welcome other opposition parties to come join us. Let us stand united against this government.
Non-BJP parties should take a call on this front
Farooq Abdullah
Mr Pawar, Mr Naidu and I have united under the firm belief that the country is going through troubled times.
As Mr Pawar highlighted, not just the people, but the institutions of this country are seeing trouble. We all must act.
We have to save democracy. It is our duty, and that is why we have come together.
Chandrababu Naidu
Farooq Abdullah ji, when I met him, suggested that the we three of us come together. Both him and Sharad Pawar are very senior politicians.
We, as senior leaders feel really bad seeing the state the country is in today.
We have decided to come together and stand united. We also welcome all others (opposition) to come and join us.
We have one thing in common - a concern for the nation. It is out of this common concern that we have come together. We have no other interest - just love for our country.