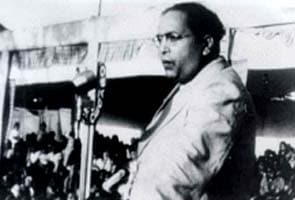 New Delhi:
The Centre today cleared the decks to transfer land in Mumbai for constructing a memorial for B R Amedkar. And Maharashtra Chief Minister Prithviraj Chavan has hailed the decision.
"The Central government has decided to transfer the Indu Mill land for the memorial of De Baba Saheb Ambedkar. We are grateful to the Prime Minister, Sonia Gandhi and Union minister Anand Sharma for this. And since this decision has been taken on the eve of Dr Ambedkar's birth anniversary, the whole state is celebrating it," Mr Chavan said.
Textiles Minister Anand Sharma announced in the Lok Sabha today that the government of India "has taken a view to make available this land for use to the Government of Maharashtra for the construction of a befitting memorial".
The ashes of Babasaheb Ambedkar are interred at Chaitya Bhoomi, situated in the vicinity of the 12.5 acre land of India United Mill, popularly known as Indu Mill, under the National Textile Corporation at Prabhadevi in central Mumbai.
"The government has initiated the process to give effect to this decision and I will be shortly be moving the necessary legislative proposal for Parliamentary approval. I seek the support and endorsement of the House," Mr Sharma said.
Dr Ambedkar's grandson Anand Raj said he is very happy with the decision. "Today is the happiest day of my life. Tonight Ambedkar supporters will celebrate like its Diwali and I request them to maintain discipline tomorrow," he said.
Dalit outfits had set December 6, Ambedkar's death anniversary, as the deadline for the state to decide on the issue, failing which they threatened to forcibly occupy the mill premises.
Mr Sharma said the decision was taken respecting public sentiments and in response to the request of the Maharashtra government and taking note of the unanimous resolution passed by both Houses of Maharashtra Legislature.
Mr Sharma hailed Ambedkar as one of India's "tallest" leaders and acknowledged his contribution in guiding the process of framing the Constitution.
A delegation of MPs from Maharashtra, led by Chief Minister Prithviraj Chavan, had met Prime Minister Manmohan Singh yesterday to press for transfer of the land.
Maharashtra government had proposed a grand memorial near Chaityabhoomi, Babasaheb Ambedkar's final resting place in Dadar in Central Mumbai a few years ago.
Earlier, when the Rajya Sabha met for the day, BSP supremo Mayawati and her party colleagues raised the issue vociferously stalling the Question Hour. Mayawati wanted to know how much money would be spent on the memorial, size of land to be allotted and time frame for building it.
(With PTI inputs)