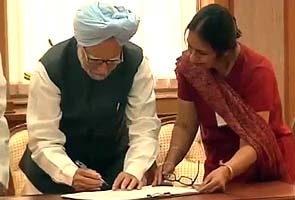 New Delhi:
India's population rose to 1.21 billion people over the last 10 years -- an increase by 181 million, according to the new census released today, but significantly the growth rate is slower for the first time in nine decades.
India is now home to a whopping 17.5 per cent population - compared to China which hosts 19.4 per cent.
India now has as many people as these countries put together: of the United States, Indonesia, Brazil, Pakistan, Bangladesh and Japan.
India has 623.7 million males and 586.5 million women.
A matter of overwhelming concern lies in the fact that the child sex ratio has slipped to its lowest since India's independence.
For every 1000 male infants, there are 914 girls.
On the plus side, the overall population growth rate is 17.6 in 2011, significantly lower than 2001 when it was 21.15 per cent.
The period covered by this census -2001 to 2011 - is the first decade, with exception of 1911-1921, where the growth rate has declined, said Registrar General of India and Census Commissioner of India C Chandramauli.
Also welcome is the news that the literacy rate has increased from 64.83 per cent in
2001 to 74.04 per cent in 2011.
Among the states and Union territories, Uttar Pradesh is the most populous state with 199 million people and Lakshadweep the least populated at 64,429.
The combined population of UP and Maharashtra is bigger than that of the US.
The highest population density is in Delhi's north-east district (37,346 per sq km) while the lowest is in Dibang Valley in Arunachal Pradesh (just one per sq km).