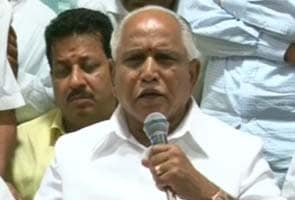 Bangalore:
Sources have told NDTV that former Karnataka Chief Minister BS Yeddyurappa has been questioned by the Central Bureau of Investigation (CBI) in connection with alleged irregularities in land denotification and illegal mining case.
CBI sources said the former chief minister was grilled by the probe agency in Bangalore in connection with the case involving alleged transaction of Rs 20 crore between Mr Yeddyurappa's family members and the JSW affiliates. The say the BJP leader was asked 26 questions.
Mr Yeddyurappa sons and son-in-law were also questioned by the probe agency, sources said.
The CBI had alleged that the transactions were intended as kickback for favours related to iron ore mining granted by Mr Yeddyurappa to the firm when he was the chief minister.
The Supreme Court had in May ordered the CBI to carry out a probe against the BJP leader after a report prepared by the Central Empowerment Committee (CEC) in pursuance of the top court's February 10 order said there was a scope for expanding the CBI probe against him in the alleged illegal mining case. Sources said the CBI is likely to submit its report on the probe to the Supreme Court by August 3.
The CEC had recommended a CBI probe considering the "massive illegalities and illegal mining" found in Karnataka and allegations against the Jindal Group as being "recipient of large quantities of illegally mined material and undue favour being shown to them."
The agency has registered a case against Mr Yeddyurappa and others in alleged undue favours shown by him to firms involved in illegal mining in return for donations to a charitable trust run by his kin when he was the chief minister.