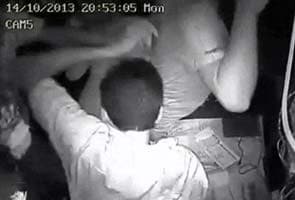 Gurgaon:
A group of men allegedly armed with chains, iron rods and hockey sticks assaulted staff and looted nearly two lakh from a toll booth near Delhi on Monday night.
The brazen hooliganism, which took place on the outskirts of the 'millennium city' Gurgaon, was captured on a CCTV camera but three days after the incident, the police are yet to arrest anyone.
Shortly after 8 pm on Monday, two bikers assaulted workers at the Wazirpur toll plaza, which is mainly for commercial vehicles. Some 30 minutes later, around a dozen men arrived on a bike and in a black Scorpio with a beacon and a politician's poster on it.
The attackers can be seen clearly in the CCTV footage, punching, kicking and thrashing the attendants and ransacking the glass booth. They grabbed the day's earning of Rs 1.85 lakh and left. A guard who was hit in the eye and seriously injured, is in hospital.
"They started beating us without provocation with belts and rods. They clearly came with the intention of robbing the toll booth," said Lakshmikant Sharma, who is in charge of the toll plaza.
Mr Sharma alleged that the Gurgaon police failed to respond to their SOS in time. He said when he called the police, their first response was to threaten to book him if the complaint was false. "I had to plead with the police to come, but it was all over by the time they arrived," he said.
The police have booked a case of dacoity against the men.