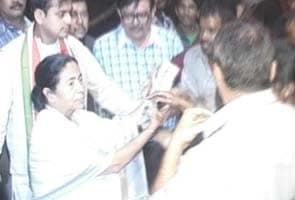 Kolkata:
It's been 24 hours since she publicly abused her security guard, but West Bengal Chief Minister Mamata Banerjee has not offered any apology yet, at least not publicly. Her outburst has triggered a storm of protest, from her political rivals who have written to the state human rights commission demanding action against the Chief Minister for publicly humiliating a government servant.
"Unfortunately we are dealing with a chief minister who is supposed to represent West Bengal culture," said CPM leader Shyamal Chakraborty.
On Wednesday evening, while coming out from the Kolkata Book Fair, Ms Banerjee shouted at her guards, "
Apnakay chapkano uchit
" which in English means, "you should be whipped." She was apparently angry that she had to wait for her car.
She said this not once but twice at least and so loudly, her audio was clearly captured on camera.
The target of her anger was Kusum Kumar Dwivedi, the police official who has been her personal security for many years.
"Power without education is dangerous as well as fearsome. And it is evident from Mamata Banerjee's activities," said the Congress' Arunabha Ghosh.
Serving police officers refused to speak on the issue, but retired IPS officer Sandhi Mukherjee said, "Her instant reaction was so sharp, it definitely affects the respectability of the officers."
Today, Ms Banerjee visited the Kolkata Zoo, but there was no show of anger during the one hour she spent there. The policeman she had humiliated was there right by her side.
Earlier, the West Bengal Chief Minister got into another controversy after her comment on Prime Minister Manmohan Singh. "I personally met the Prime Minister at least 10 times. What else can I do? Shall I go beat him up? Then people will call me a 'goonda'. Anyway, they call me that. But I don't care. I can go to the very last for the people," she had said at a rally last month while criticising the Central government for hike in fertiliser prices.
Ms Banerjee later denied saying anything about beating up the Prime Minister and blamed the media for "distorting facts".
The comment was widely criticised with the Congress demanding an apology from her for using "undemocratic language to hurt the Prime Minister".