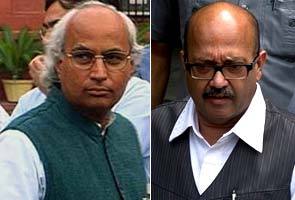 New Delhi:
Politician Amar Singh has been formally chargesheeted under the Prevention of Corruption Act for offering bribes to three BJP MPs in 2008. A crore was reportedly given in cash to the MPs for supporting Prime Minister Manmohan Singh during a trust vote in July that year.
Sources say the evidence against Amar Singh is based on telephone call records. Sanjeev Saxena, who allegedly delivered cash to the MPs called Amar Singh's residence several times in the hours before the vote of confidence was held. Mr Saxena has been arrested.
Sources also say the money trail is yet to be traced but bank accounts from which the money was paid have been identified.
Sudheendra Kulkarni, who was then an advisor to senior BJP leader LK Advani, had allegedly planned the entire operation to expose the willingness of the UPA to buy votes. He will face criminal charges that include inducement.
The Delhi Police in its chargesheet says, "...sufficient material has come on record that after being induced by 3 BJP MPs shri Amar Singh hatched a criminal conspiracy with his secretary Sanjeev Saxena to deliver Rs 1 crore to these 3 BJP MPs." The chargesheet also says the vehicle used to carry the cash was registered in the name of a company owned by Mr Amar Singh , and that the money was delivered in Mr Kulkarni's presence.
However, the chargesheet remains silent on Amar Singh's motive in bribing the MPs.
The trio of BJP MPs - Ashok Argal, Faggan Singh Kulaste and Mahavir Bhagora - had marched into the Lok Sabha waving bundles of cash hours before the trust vote began. Prime Minister Manmohan Singh survived the no-confidence motion.
The BJP had alleged that Amar Singh, who was then a senior leader of the Samajwadi Party, had used middlemen to bribe its MPs. The Samajwadi Party provided external support to the UPA government; Mr Singh was seen as a trusted friend. Recently, Mr Singh has quit his party after an acrimonious disagreement with Samajwadi Chief Mulayam Singh Yadav.
Media reports have exposed that the BJP MPs may have marketed themselves to the UPA in the hope of being able to expose the government's willingness to buy votes. The party had coopted a private TV channel to shoot negotiations between Mr Singh's aides and its MPS.
Mr Kulaste and Mr Bhagora have been chargesheeted for accepting bribes - their terms as MPs have expired. Because Mr Argal is still a Lok Sabha MP, the police have asked Speaker Meira Kumar for permission to chargesheet him.