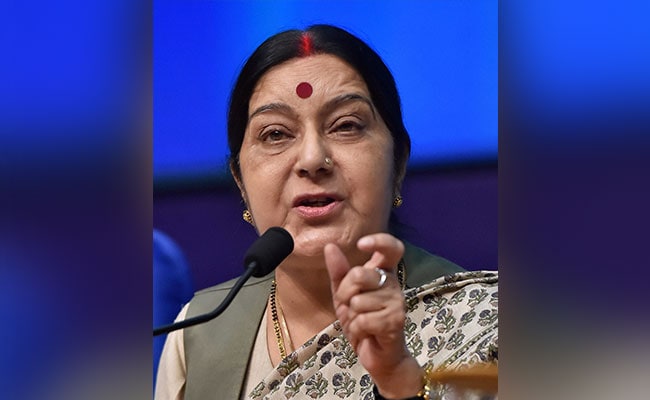 Highlights
Cabinet meets, clears new bill on surrogacy
Bill looks to ban commercial surrogacy or "rent-a-womb"
Sushma Swaraj chosen to brief reporters on meeting and bill
New Delhi:
The Wednesday ritual of a cabinet meeting threw up a surprise today- Foreign Minister Sushma Swaraj was chosen to brief the press about the session held at the Prime Minister's Office.
Ms Swaraj, whose Twitter persona has earned her praise from the opposition and a huge following among Indians, has steadfastly maintained a low-profile offline, with her comments and briefings restricted to her own ministry.
However, sources say, her role today was based on two factors: the government was keen on using her gravitas to present its new proposal on the rights of surrogate mothers; and Ms Swaraj headed the group of ministers that helped draft the bill, with Health Minister JP Nadda serving as its pilot.
"I will satisfy your curiosity first. I have not come for an external affairs issue but for the surrogacy bill and I was the head of the Group of Ministers on surrogacy," said Ms Swaraj before outlining the new proposal that seeks to end the rent-a-womb business that has flourished in India.
After taking office in 2014, Prime Minister Narendra Modi made it clear that he wanted to break with the previous government's tradition of creating Groups of Ministers or GOMs to handle legislation. But over the last year, top ministers like Arun Jaitley and Rajnath Singh have been chosen as leaders of mini-cabinets to deal with tasks assigned by the PM.
The new bill on surrogacy cleared by the cabinet
bans being able to hire a woman to carry a baby. Commercial arrangements cannot be entered, though "altruistic surrogacy" can be arranged with close relatives if couples have been married for at least five years and have no other children. The new guidelines state that surrogacy will not be available to homosexuals, single people or foreigners.