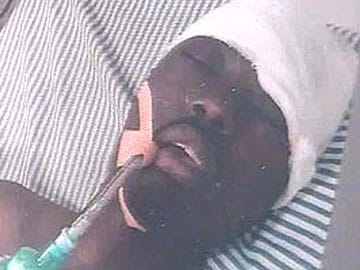 Patiala:
Burundi national Yannick Nihangaza was today flown out of India in an air ambulance to his country in Africa more than two years after the he went into a coma following an attack on him in Jalandhar.
Mr Nihangaza, a computer science student who was admitted at a private hospital in Patiala for more than two years, was airlifted by a team of doctors of 'Saras Rescue' to his home country via Amritsar and Al Ain in UAE early today at 6.30 am.
The young man was airlifted to his country after the Punjab government agreed to bear the Rs 75 lakh cost for the same, an official spokesman said.
Punjab minister Surjit Singh Rakhra and Deputy commissioner Varun Roozam were present at the airport for Mr Nihangaza's departure. The air ambulance will take him to Brumic Medical and Research Centre in Burundi.
Mr Nihangaza's father Nestor Ntibateganya thanked Punjab Chief Minister Parkash Singh Badal and SPS Oberoi, the managing trustee of Sarbat Da Bhala Charitable trust, an NGO, for facilitating their return to Burundi.
Mr Nihangaza has remained on life support (ventilator) system ever since the assault on him by some youths in Jalandhar where he was pursuing a bachelor's degree in computer science at Lovely Professional University.
He was headed to a party on April 22, 2012, when he was attacked by a group of nine students. Seven of the nine attackers, who were also students, have been sentenced to 10 years' in jail while the remaining two reportedly fled to Australia.
Mr Nihangaza's father had written to Punjab Chief Minister Parkash Singh Badal on June 20, 2012, regarding the condition of his son whereupon Mr Nihangaza was shifted to Patiala from Jalandhar.
As the case sparked outrage in Punjab and was in some circles construed as having racial overtones, the state government promised to bear all expenses of the treatment and also agreed to airlift him.
The members of Sarbat Da Bhala Trust have also handed $ 1,000 to the family.
Dr Parvez Aslam of Saras Rescue told PTI, "Our team of aero-medically trained professionals follows strict medical transport procedures and protocol, with the patient's well-being as our primary consideration."
Meanwhile, the Colombia Asia hospital in Patiala handed over the bill for Mr Nihangaza's treatment to SDM Gurpal Singh Chahal.
But the chief of medical services at the hospital, (Brig.) Dr V Bhatnagar, refused to give details of the bill. Hospital sources said that a bill of Rs 3.5 crore has been submitted with the authorities for the treatment of Mr Nihangaza for over two years.