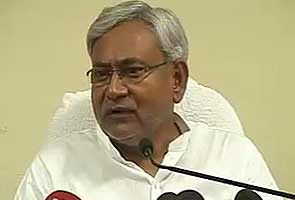 Patna:
Bihar Chief Minister Nitish Kumar on Thursday hailed Finance Minister P. Chidambaram for promising to revisit criteria for special category status and said that it was a 'victory in-principle' for Bihar in view of its consistent demand for grant of such a status.
"We have been demanding review of criteria for special status to the states for a long time and framing of new criterion for grant of such a status to backward states like Bihar....I am glad that Chidambaram has referred to revisiting criteria for special status during his budget speech," Mr Kumar told reporters.
"It is the victory of the people of Bihar (on Centre agreeing to revisit special status criteria) and Chidambaram deserves kudos for understanding our aspirations for development," Mr Kumar said.
Describing the Centre's stand on the special status as a 'positive sign,' the chief minister hoped that the former will live up its promises on the special status issue.
The Centre's promise to look into criteria for special status in the economic survey as well as the budget speech has fuelled hope among the people of Bihar that the special status was a realistic demand that can be achieved, he said, adding that our crusade on the issue has in any case entered into an interesting phase with the JD(U) organising a rally in Delhi on March 17 next to press for grant of special status.
Mr Kumar expressed hope that the Finance Commission and the Planning Commission will provide funds to Bihar by taking into account economic backwardness in the state in the wake of an apparent acknowledgement of the same by Chidambaram in the budget speech.
The chief minister, however, ruled out a political meaning of his lavish praise for the Finance Minister and said that no such conjecture should be made as the Centre's commitment to revisit the special status.
The Centre's commitment to review special status criteria has opened door for backward states like Bihar and everybody should rally behind the ongoing endeavour on special status, Mr Kumar said.