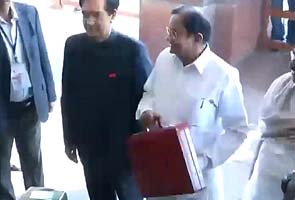 New Delhi:
Finance Minister P. Chidambaram, red-brown Budget briefcase in hand, has reached Parliament, where he will present one of the most highly anticipated budgets of recent years at 11 am.
Before that, the Cabinet is meeting to approve the Budget. The Finance Minister also met President Pranab Mukherjee this morning to brief him on the key features of the Budget, his eighth.
Mr Chidamabaram's budget 2013 is expected to be a blueprint for austerity as a centre-piece of India's efforts to stave off a damaging credit ratings downgrade. While doing that, he has to bear in mind that this is the last full Budget before elections next year.
The 2013-14 Budget caps an intensive seven-month campaign by the energetic Mr Chidambaram, who was appointed last August, to turn around the fortunes of Asia's third-largest economy after years of policy drift and global economic turmoil.
Mr Chidambaram will likely spell out plans to narrow fiscal and current account deficits, which have alarmed ratings agencies and triggered warnings that the country's sovereign bonds could lose their investment grade status and be downgraded to 'junk' if urgent steps are not taken to rein in spending.
He is expected to announce plans to keep a lid on government spending in fiscal 2013-14, capping it at roughly the same level as the year ending next month, officials told Reuters, despite fears that lower public expenditure risks deepening India's sharpest economic downturn in a decade.
Economists say he may also unveil measures to widen the tax net to boost government revenues, lay the groundwork for a goods and services tax, reduce the government's huge subsidies bill, sell more stakes in state-owned enterprises and raise import duties to dampen demand for gold.
Investors will watch closely to see whether the three-time finance minister will fulfil his promise of fiscal prudence or sow the budget with vote-winning, but expensive, welfare handouts.
"Fiscal consolidation is the need of the hour, and ratings agencies will sift through the finer budget details to judge India's sovereign credit rating, which already has a negative outlook at two ratings agencies," investment bank Nomura said.
When Chidambaram stands up in Parliament to lay out the government's spending and fund-raising priorities for the coming year, he will effectively start the countdown to an election due by May 2014.
Despite the emphasis on fiscal prudence, there will likely be some populist measures that will be key elements in the Congress's campaign.
He is expected to highlight plans to expand the supply for cheap grain for the poor at a total cost of more than $22 billion to the Treasury, and an ambitious direct cash transfer programme for delivering social welfare payments and subsidies.
Credibility at stake
Mr Chidambaram has staked his reputation on hitting a fiscal deficit target of 5.3 percent of GDP this year and 4.8 percent in 2013-14. A no-nonsense, Harvard-educated, lawyer who commands both respect and fear in government, he has squelched opposition from cabinet colleagues worried that spending cuts could ignite a backlash among voters.
Some ministries are bracing for funding cuts of up to 20-24 percent from their original 2012-13 targets.
Defence Ministry officials fear the cuts could force a delay in weapons purchases by a country that has become the world's largest arms importer in recent years.
"My sense is that (at) this point the critical action we have to take is to try and re-accelerate growth, which is difficult in a situation ... where we are also trying to constrain spending," said Raghuram Rajan, Mr Chidambaram's chief economic adviser, speaking at a news conference on Wednesday. "But if we constrain spending cleverly, we can actually do both."
Mr Chidambaram has focused on winning back foreign investors who were unnerved by proposals of his predecessor, Pranab Mukherjee, to tax merger and acquisition deals retrospectively and clamp down on tax evasion. He has implemented a spate of investor-friendly reforms, including opening up the retail sector to foreign supermarkets, since last September.
But Thursday's budget, his eighth, will be the biggest test of his reformist credentials.
His last budget, in 2008-09, was widely credited with ensuring the re-election of the Congress-led ruling alliance. Flushed with funds, thanks to near-double-digit economic growth, Chidambaram increased government spending in rural areas, the Congress party's traditional "vote bank".
This year, however, the economic slowdown has left him with little room for big-bang populist measures.
The government estimates economic growth for fiscal 2012-13 will be 5 percent, nearly half of what it was in 2007-08.
In its annual economic survey released on the eve of the budget, the finance ministry said the economic slowdown was a "wake-up call for increasing the pace of actions and reforms". It projected growth in the coming year of 6.1-6.7 percent.
Nomura said the credibility of Mr Chidambaram's budget would depend on the government's underlying assumptions on growth, asset sales and subsidies.
Some government economic estimates in the past have proven wildly over-optimistic. In the 2012-13 budget for example, the government predicted the economy would grow at 7.6 percent, sharply higher than the 5 percent that is now forecast.