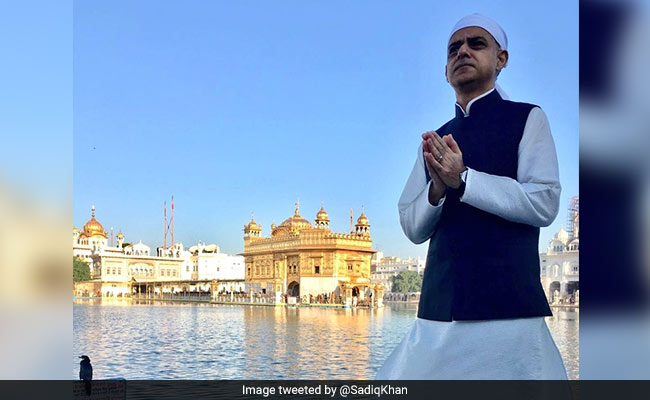 Amritsar:
London Mayor Sadiq Khan said today that the British government should apologise for the Jallianwala Bagh massacre in Amritsar.
Mr Khan, who arrived in Amritsar yesterday, paid tributes to martyrs of the Jallianwala Bagh massacre.
"The British government should apologise for the Jallianwala Bagh shootings. Some people use the word massacre," Mr Khan told the media after visiting the Jallianwala Bagh complex.
Hundreds of innocent Indians, including women, children and old people, were shot dead by the British troops led by Brigadier General Reginald Dyer on April 13, 1919.
The victims had no place to escape as the only narrow entrance was blocked by the troops. Colonial era records had put the death toll at around 400, while leaders of the India's freedom movement had put it at over 1,000.
Though British monarch, Queen Elizabeth and her husband, Prince Phillip, had visited the Jallianwala Bagh in October 1997, no apology for the massacre was offered.
British Prime Minister David Cameroon visited Jallianwala Bagh in February 2013 and offered regrets over the killings, stopping short of a formal apology.
Mr Khan then visited the Golden Temple complex, where the holiest of Sikh shrines, Harmandir Sahib, is located and offered prayers.
The Shiromani Gurdwara Parbandhak Committee (SGPC) gave Mr Khan a 'siropa' (robe of honour) during the visit.
Mr Khan also visited the Langar hall, the largest community kitchen in the world, of the shrine complex and partook langar while sitting on the floor.
Earlier on Tuesday evening, Punjab Chief Minister Amarinder Singh, Local Bodies Minister Navjot Singh Sidhu and others met Mr Khan at a dinner hosted for him.
Mr Khan, who was on a three-city tour of India, visiting Mumbai, New Delhi and Amritsar, later crossed over into Pakistan from the Attari-Wagah joint check post land border between India and Pakistan, about 30 km from Amritsar.
The London Mayor, who is of Pakistani-origin, will also visit Lahore, Karachi and Islamabad in Pakistan.