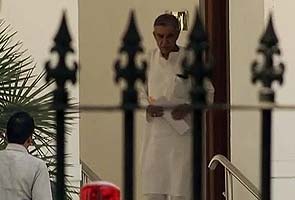 New Delhi:
A day after his nephew was arrested in a bribery scandal, Railway Minister Pawan Kumar Bansal met Prime Minister Manmohan Singh today and has reportedly offered to resign, sources have told NDTV.
The offer is being discussed at the Congress' core group meeting which is underway, sources say, adding that the PM and Congress president Sonia Gandhi will then take a final call on it. Mr Bansal met the Prime Minister and Mrs Gandhi ahead of that meeting.
Mr Bansal's nephew, Vijay Singla, was arrested by the CBI yesterday for allegedly accepting a bribe of Rs. 90 lakh from Mahesh Kumar, a Railway Board member, who reportedly wanted his help to secure a "more lucrative" position. (
Read why India's Railway Board is so powerful
)
But the minister says he "had no clue about the matter at all" and was looking forward to an "expeditious" investigation by the CBI. (
Read Pawan Bansal's full statement
)
The Opposition immediately latched on this new controversy, slamming the UPA for being a "government of dealers and brokers". The BJP demanded for Mr Bansal's sacking, saying he should be prosecuted by the CBI for allegedly misusing his position. Trinamool Congress, which earlier held the Railways portfolio before pulling out of the UPA, termed the arrest as "shameful for the Congress."
(More reactions)
Mr Singla, a businessman from Chandigarh, was arrested for allegedly accepting cash from a man who was the middleman for Mr Kumar, who was arrested in Mumbai. Both have been produced in a court in Delhi.
The CBI told the court today that Mr Singla was caught red-handed while accepting the bribe. This, it said, was the result of a trap laid by it which included tracking Mr Kumar's movements and phone calls. The entire episode, it also said, was part of a deeper conspiracy with the involvement of several others. The agency told the court it is trying to locate the source of the funds used for the bribe.
Mr Kumar was recently promoted to the Railway Board, the top governing body of the Railways which handles massive contracts. But sources say he allegedly wanted a better post within the board, which has seven members who are considered equivalent to a Secretary in the Government of India.