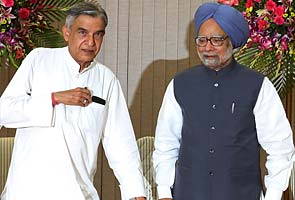 New Delhi:
Will Railways Minister Pawan Kumar Bansal be asked to quit in the wake of his nephew's arrest for allegedly taking a bribe to fix a plum position in the Railway Board? It's not yet certain what decision, if any, the Congress core group, which is currently meeting will take.
Earlier, sources had said that the party would take a decision in this regard after the Karnataka polls.
The BJP, which has been demanding Mr Bansal's resignation, reiterated its demand today. Party spokesperson Ravi Shankar Prasad demanded a CBI probe in the case and said "the government is trying to shield its ministers."
Security has been tightened outside Mr Bansal's residence following protests by activists of the students' wing of the BJP today.
Mr Bansal met the Prime Minister and even briefed the Core Group of his party, the Congress, yesterday where he explained his position claiming that he had no business links with his nephew nor did he get influenced by him in decision-making. (
Read Pawan Bansal's statement
)
His nephew, Vijay Singla, was arrested on Friday for allegedly accepting a Rs 90-lakh bribe from a man who wanted a key posting on the Railways Board so badly that he was willing to pay Rs 10 crore for it. He and others accused were produced in a court today and remanded to four days in CBI custody.
Mahesh Kumar, who was recently made a member of the Railways Board, reportedly wanted Mr Singla's help to secure a position where he would be in charge of clearing all electrical contracts, which would run into hundreds of crores.
The Board, which has seven members, reports directly to the Railways Minister and this year, it will manage a budget of Rs 63,363 crore or $11.5 billion. (
Read: Indian's Railway Board - why it is so powerful
)
Mr Kumar's alleged agreement with the minister's nephew was for Rs 10 crore, said the CBI. The Rs 90 lakh that he was allegedly caught accepting was just the first installment.
The CBI, meanwhile, arrested another middleman named Rahul Yadav on Saturday.
The latest controversy should hurt as the coveted Railways portfolio returned to the Congress after 17 long years; last, it was held by Mamata Banerjee's Trinamool Congress before it pulled out of the UPA. More importantly, the allegations are likely to dent Mr Bansal's clean image.