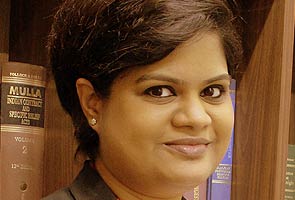 Shwetasree Majumder, an intellectual property lawyer, shares her experience of assisting the Justice Verma Commission in preparing a report on changes required in laws against sexual violence. Ms Majumder was one of the senior-most members in the team of 15 people who helped prepare the 600-page report in just 29 days.

Ms Majumdar is the General Secretary of the Society of Women Lawyers and spends her spare time dealing with issues concerning women.

Here's what she has to say:
I don't think any of us had quite fathomed what we were getting into. Hot blooded, raring to go, willing to be part of a change that we hoped would last, the answer on each of our lips was "Yes", when we were asked if we would help the Verma Committee. And then it hit us. 80,000 emails, the phone ringing off the hook and 14 perplexed lawyers, one historian/sociologist and one law student - we had clearly bitten off way more than we could chew.
Interestingly, the one thing that held us together was neither similar thinking not synchronised working styles - it was humour! And once that clicked it was a cakewalk. Through the endless cups of tea and the now-legendary heart-shaped cutlets in the Vigyan Bhavan Annexe to hurling imaginary offences and penalties at each other, we used humour to stay upbeat, positive and optimistic.
And the humour was almost like a desperate straw that I clung on to in those long hours when I sometimes wanted to throw in the towel; not because I hadn't slept for eight straight hours in as long as I can remember, but because I was worried that I wouldn't sleep again in a very long time. Those hours when I learnt of the horrors of being a doubly disadvantaged woman in this country that I have always been so proud of - the horrors of women being bought and sold like cattle, of missing children, of the horrific abuse in 'welfare' homes, of the systematic, repeated continuous and invisible assault that is going on unnoticed and unchecked. And I threw myself into the task at hand with a frenzy, to use the most powerful tools I have at my disposal - the tools of knowledge and education to help create a roadmap for change.
Perhaps this stint with the Verma Committee was the best tribute I could pay my alma mater, the National Law School of India University. I had always heard detractors say that the best law school in the country only produces corporate lawyers who have little or nothing to do with social change. Every member of this team of researchers was from a premier law school of the country and I think we did a pretty good job vindicating the quality education that we had received.
The biggest motivation however, was the Committee itself. The ever smiling octogenarian at the helm of it (he celebrated his 80th birthday in Vigyan Bhavan eating those very heart-shaped cutlets) whose patience and his broad outlook were truly worthy of respect. From lowering the age of consent to 16, to including all persons in the ambit of sexual assault, to including hate crimes like female genital mutilation within the scope of the new spectrum of offences - Justice Verma's vision should be lauded as being in perfect tandem with the modern world.
Justice Leila Seth has been a long time inspiration - once again another liberal and an incredibly humble one. Despite deep reserves of specific knowledge on the subject (having co-authored the Law Commission's 172nd Report which reviewed rape laws) she did not approach the subject with any preconceived notions and was always willing to give every one of our views a patient ear and vote for adopting the approach that sounded most fair.
And finally, to use Justice Verma's words, the 'youngest member of the committee', Mr Subramaniam, who also celebrated his 30th wedding anniversary in these few maniac days by acknowledging that his wife deserved better! I cannot name any anyone, far less a senior counsel who would put his extremely lucrative practice completely on hold for a whole month to throw himself, heart and soul, into a social cause the way he did. From giving each one of us unfettered access to his office, his resources and his staff, to sitting with us shoulder-to-shoulder and burning the midnight oil and then working on his own long after we were gone (until he actually crashed out in the middle of the day from sheer exhaustion - but only once!), from giving everyone who walked in through the doors of his office offering valuable information to assist the committee a patient ear, to sifting through absolute mountains of material to find the nerve of every issue, he was like a man possessed. And with these three incredible human beings steering the ship, it was of no surprise that something powerful was born.
And now that our baby is yours, be kind (typos are stuff that my nightmares are made of). Recognise our labour of love for what it is - a fervent call for change and a voice of hope - and help us keep up the momentum until our elected representatives take the suggestions to their logical conclusion.
But for now, all I have to say to my seven year old is "No more TV. Mommy is back to coming home at human hours every evening again."

Disclaimer: The opinions expressed within this blog are the personal opinions of the author. NDTV is not responsible for the accuracy, completeness, suitability, or validity of any information on this blog. All information is provided on an as-is basis. The information, facts or opinions appearing on the blog do not reflect the views of NDTV and NDTV does not assume any responsibility or liability for the same.