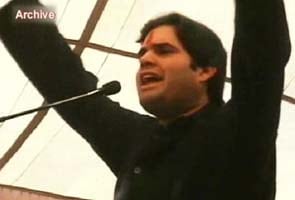 New Delhi:
In a nod to the Rashtriya Swayamsevak Sangh's mandate that Hindutva be brought back as an agenda in the BJP's election strategy for 2014, party chief Rajnath Singh has given leaders like Varun Gandhi and Uma Bharti key posts in his new team of office-bearers.
Uma Bharti, the mercurial monk-politician who was at the heart of the BJP's campaign to build a temple at Ayodhya before she was expelled from the BJP on grounds of discipline, is now a vice-president. The comeback has been gruelling for Ms Bharti who had even tried to float her own party while in exile, but met with no success.
In Bhopal, the former Madhya Pradesh Chief Minister was delighted at having been picked for an important assignment. "She said, "I am grateful to Rajnath Singh for showing so much trust in me. I would also like to thank Gadkari ji, Advani ji, Ram Lal ji as well. By the grace of god I am in a good political post now."
The 32-year-old Varun Gandhi, who was recently acquitted in cases that accused him of making hate speeches in Uttar Pradesh in the 2009 general elections, has been made a general secretary. The party also believes that Mr Gandhi could forge a connect with young voters and play a key role in the campaign in Uttar Pradesh.
His first cousin, Rahul, who is 10 years older, was made the vice-president of the Congress party earlier this year.
His mother Maneka Gandhi, also a BJP leader said, "I am very happy for Varun Gandhi. Now he has been given responsibility. I believe he will perform his duties with his heart and mind."
Vinay Katiyar, another leader from UP closely associated with the Ayodhya temple movement took a dig at Mr Gandhi after the announcement. "It is clear the Gandhi name brings dividends, Varun is reaping the benefit of being a Gandhi," he said.
Mr Katiyar, who has earlier headed the Bajrang Dal, a hardline subsidiary of the Rashtriya Swayamsevak Sangh or RSS, has been appointed to the election panel of the BJP.
At the Kumbh
mela
this year, the RSS, which is the ideological parent of the BJP, relaunched a soft Hindutva agenda, making a new demand for the construction of a Ram temple in Ayodhya.