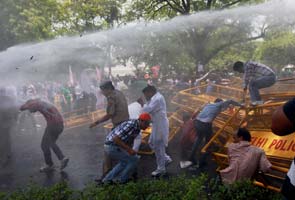 New Delhi:
Around 2000 workers from the Bharatiya Janata Party clashed with the Delhi Police today after they defied prohibitory orders and attempted to march towards Prime Minister Manmohan Singh's 7 Race Course Road residence in central Delhi.
The president of the BJP's youth wing, Anurag Thakur, and the head of the party's Delhi unit, Vijay Goel, led the protest march in their demand for the PM's resignation over the coal scam. Both leaders, along with several protestors, were detained and taken to the Tughlaq Road police station.
The BJP activists crossed two police barricades and were finally stopped by cops barely 200 metres away from the PM's residence. Policemen, deployed in large numbers around the area, fired tear gas shells and used water canons to control the protestors.
In anticipation of the protest, the Race Course Road metro station has remained closed to the public since 11 am on Sunday. Teams from the Rapid Action Force have also been kept on standby.
"We demand proper investigation into the scams and cases of corruption against Congress and its ministers. We also demand that the PM has to resign," Mr Thakur told reporters as he was being taken away by the Delhi Police.
He later told NDTV, "We are organising a 'shameless week.' Protests will continue. We will hold protests in 275 districts."
The BJP has been demanding the PM's resignation over the coal allocation scam for months now. Law Minister
Ashwani Kumar
had to resign two days ago for vetting a draft of a CBI report on its investigation into coal allocation. The Supreme Court has severely censured the CBI and the government.
The "coal-gate" scandal revolves around allegations that the UPA government adopted a flawed policy in allotting coal fields to private firms. It is particularly sensitive for the UPA because the Prime Minister held the coal portfolio for part of the period under investigation.