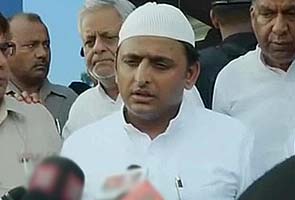 Lucknow:
Uttar Pradesh Chief Minister Akhilesh Yadav, whose government failed to prevent the worst Hindu-Muslim riots in the state in over a decade, today reiterated that the violence was fuelled by the BJP in Muzaffarnagar. Nearly 50 people have died, and 40,000 have been displaced from their homes.
"What happened in Muzaffarnagar is a well-thought out strategy," the young chief minister said in the state legislature today. "One political party has tried to draw political mileage. They used social media to trigger a riot," he alleged.
One BJP leader - Sangeet Som - has been charged with circulating a fake video online that claimed to show the lynching of two Hindu Jat boys by a group of Muslims; it was actually a video from Pakistan that was two years old.
The BJP has denied that it exploited the communal tension in Muzaffarnagar and has said the government is trying to pass the buck for a massive failure.
Arrest warrants have been issued for a group of politicians from the BSP, the Congress and the BJP for delivering incendiary speeches at different meetings, scaling up the unrest. No one has been arrested so far.
The savage springboard for the violence was the alleged stalking of a young Hindu girl by a Muslim boy. Her brothers killed him on August 27; within an hour, they had been murdered by a mob. Though local officials ordered a ban on public meetings, politicians and senior bureaucrats addressed different gatherings, instigating angry Muslim and Hindu audiences.
Mr Yadav's Samajwadi Party has been blaming the BJP, but one of its own leaders - Rashid Siddique - addressed one of those controversial meetings, despite a ban ordered by the government.
The riots erupted with vicious force on September 7 when thousands of Hindu farmers who had attended a big rally were attacked on their way home. In the next 48 hours, nearly 50 people were killed.