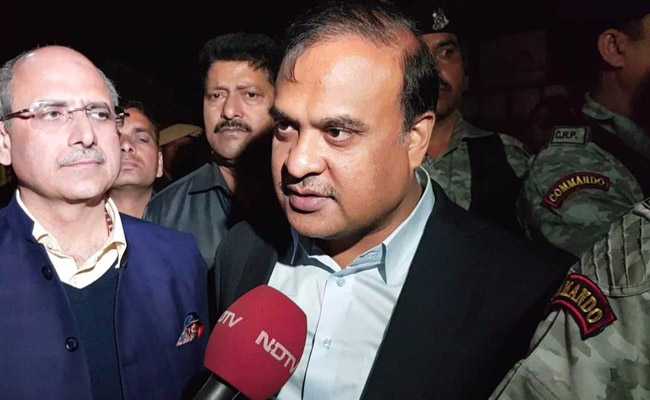 Kohima:
In Nagaland, both the incumbent chief minister TR Zeliang and the aspirant Neiphiu Rio have staked claim to form the government in alliance with the BJP. But putting all uncertainty to rest, at least for now, BJP strategist Himanta Biswa Sarma said in Kohima on Monday that his party will not have any truck with the incumbent Naga People's Front (NPF) and will stick to its pre-poll ally, the Nationalist Democratic People's Party (NDPP).
After a meeting with Mr Rio, Mr Sarma told reporters that his party was no longer in alliance with the NPF that had been in power in the state since 2008.
"Today, I can officially say that we have no truck with the NPF and there is no question of going back to the NPF in forming the government. We will go with the NDPP," said Mr Sarma, adding that "enough signals" had been sent to Mr Zeliang.
The BJP had a pre-poll alliance with the NDPP and the people have given us the mandate, Mr Sarma said.
While the BJP won 12 seats, the NDPP bagged 18 seats in the 60-member assembly. The alliance also has the support of one JD(U) lawmaker and an independent lawmaker.
NPF emerged as the single largest party in the elections, winning 26 seats. On Sunday, Mr Zeliang had met the Governor and expressed his intent for another term, saying he would talk to BJP leaders in Delhi.
Governor PB Acharya expressed surprise as he had expected Mr Zeliang to resign.
Advising Mr Zeliang to "resign gracefully respecting democratic norms", Mr Sarma said it wouldn't be proper for the NPF leader to meet central BJP leaders now as that "will send wrong signals to the people". If Zeliang desires, he can meet them after formation of the government, Mr Sarma added.
Mr Rio, who refused to reveal details of the agreement sealed with the BJP on the representation of parties in the government, said the coalition would be called "People's Democratic Alliance".
The 48-hour deadline given by the governor to Mr Rio and Mr Zeliang to submit the signatures of the elected members supporting them will expire on Tuesday evening.