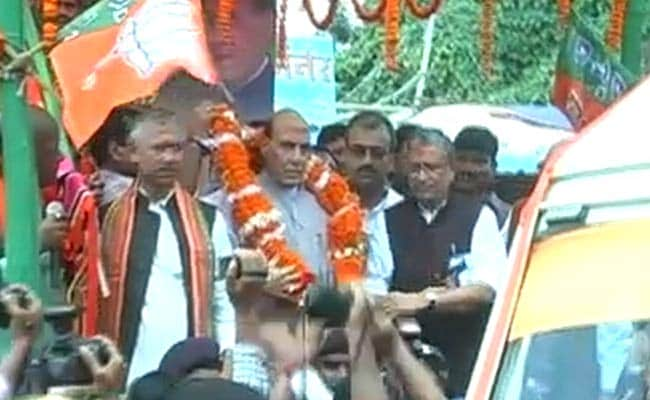 Chapra, Bihar:
As Nitish Kumar, the Chief Minister of Bihar, logs on to twitter to campaign for the upcoming state polls, the rival BJP, a veteran on social media, today took to the road.
Union Home minister Rajnath Singh kicked off the BJP's "parivartan (change) yatra" in the state. Over 1,000 people attended the launch at the famous Hariharnath temple in Sonepur, one of the four places from where the BJP-led National Democratic Alliance (NDA) took out its assembly election campaign.
The roadshow will feature four "raths" or chariots, which are really customised Tempo Traveller vehicles fitted with a bed, fridge, air-conditioner and a red beacon. One of these vehicles will be taken by former deputy chief minister Sushil Kumar Modi, who will travel across the region for the next 15 days.
Mr Singh said, "Who can question Bihar's DNA? There have been so many distinguished personalities from Bihar. We totally understand its sense of pride. But I want to ask these people, Nitish and Lalu, why can't they be truthful in their politics?"
Union minister Giriraj Singh, known for his controversial statements, will also campaign in one of the "chariots".
A BJP worker in Chapra, Rahul Kumar told NDTV, "Nitish Kumar can say what he has to say. My gut feeling is that this election will be all about connecting with people on the ground through such campaigns."
The BJP's campaign coincides with Nitish Kumar's twitter offensive against Prime Minister Narendra Modi over his comments at a rally two weeks ago that "deceit and treachery" are in the Chief Minister's DNA.
Mr Kumar's Janata Dal United has started a "shabdwapasi (take back your words)" campaign, and has said it will send at least 50 lakh signatures from the people of Bihar and send their DNA samples to PM Modi.
PM Modi is leading the BJP's campaign for the Bihar election likely in September; Nitish Kumar hopes to retain office for a third term in a row.