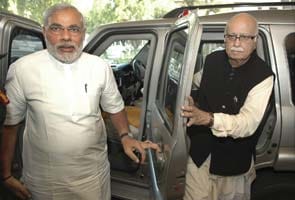 New Delhi:
As acknowledgement of his stature as its biggest vote-getter, the BJP is poised to announce Narendra Modi as the head of its election committee this weekend when its senior leaders meet in Goa. Sources say that as part of his new role, the Gujarat Chief Minister will be assigned to campaign extensively across the country, with a special focus on Uttar Pradesh.
Ahead of the two-day conclave, central office-bearers of the party will meet on Friday afternoon to discuss the agenda of the meeting.
The party has also reportedly decided to reject a proposal to announce two election committees, as suggested by senior leader LK Advani in an attempt to check Mr Modi's VVIP stature. The 85-year-old had pitched that while Mr Modi's team could lead the party's strategy for the national election, another committee headed by former BJP president Nitin Gadkari would steer efforts for upcoming state elections. The point was to signal that Mr Modi was one of the party's top leaders, rather than its tallest.
That proved to be a case of over-reach by Mr Advani, not least because Mr Gadkari refused to consider the proposal. The BJP was also concerned that creating two committees with different captains would confuse voters.
Yesterday, Mr Modi proved his power by delivering six important seats in his state for his party, all of them wrested from the Congress. The chief minister, who was in Delhi to attend a conference on national security called by the PM, met with party chief Rajnath Singh and Mr Advani, who reportedly congratulated him on the election results.
Mr Modi's supporters have been demanding that he be declared the party's presumptive prime minister, a prospect that has divided the BJP's top leaders, many of who believe they are contenders for that nomination.
The appointment of the chief minister as the head of the election committee has been urged by the BJP's ideological mentor, the Rashtriya Swayamsewak Sangh or RSS , which has been worried that the war between the pro and anti Modi camps will alienate voters.