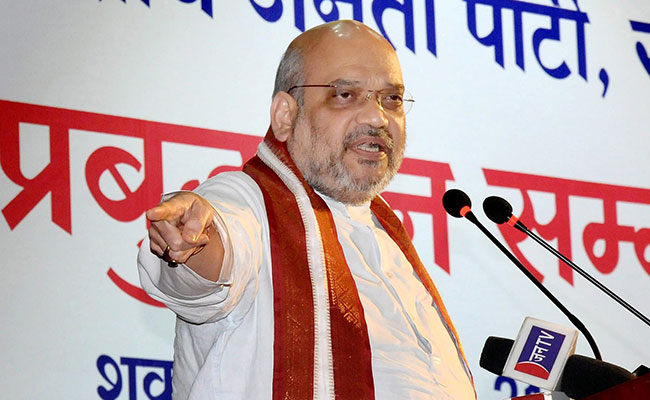 Jaipur:
BJP president Amit Shah on Saturday said the party was in favour of holding Lok Sabha and state assembly elections simultaneously.
Mr Shah, who is a on a three-day visit to Rajasthan, said all political parties should discuss the issue and take it up with the Election Commission.
"We definitely want Lok Sabha and state assembly elections to be held together. The BJP believes in the concept," he said at a press conference in Jaipur.
"Prime Minister Narendra Modi has also raised the issue with all political parties for discussion," he said when asked about the party's stand on holding the polls together.
Mr Shah said his party wants the Ram temple in Ayodhya to be constructed in a legal manner after mutual dialogue.
"The party's stand is clear and mentioned in the last four Lok Sabha election manifestos. The temple should be constructed in a legal manner and there should be mutual dialogue," he said at a press conference in Jaipur.
On suggestions that the creamy layer among SCs/STs should be excluded from reservation benefits, the BJP chief said a decision can only be taken after discussion with all parties in Parliament.
Mr Shah referred to major steps by the BJP-led government in Centre, including demonetisation, GST implementation and shutting down shell companies.
He said the BJP was never against GST implementation by UPA-led government but it was against the way it was being implemented.
"The states were demanding that losses incurred by them should be fully compensated by the Centre. We accepted their demands while implementing the GST and now the states are with us," Mr Shah said in reply on a question.
"There were apprehensions raised by the opposition, but people of the country have accepted it," he said.
Asked whether the government intends to bring any legislation on cow protection, Mr Shah said such laws already exist in BJP-ruled states.