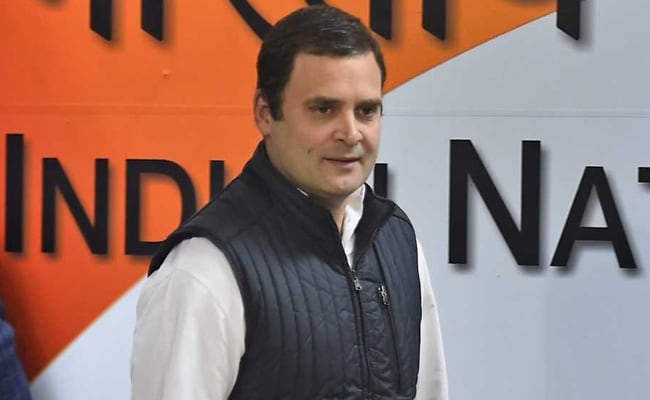 Bengaluru:
In a tit-for-tat move to the bandh call during BJP President Amit Shah and Prime Minister Narendra Modi visits to Karnataka, the party's state unit today decided to observe district specific shutdown during Congress chief Rahul Gandhi's state tour.
BJP has termed as "politically motivated" a call for a Karnataka bandh tomorrow and Bengaluru bandh on February 4 by pro-Kannada outfits demanding the Prime Minister's mediation in the inter-state Mahadayi river water dispute with Goa.
The BJP has alleged government's role in the selection of dates when Mr Shah and PM Modi are expected to visit the poll bound state to take part in 'Nava Karnataka Parivartana Yatre', organised by the state unit.
Pro-Kannada outfits have called for a Karnataka bandh tomorrow when Mr Shah will address a rally in Mysuru and a Bengaluru bandh on February 4, the day PM Modi arrives in the state to address a rally.
"We have decided that when Rahul Gandhi comes to Karnataka, we will call for a complete bandh in those districts he will be visiting," BJP state President B S Yeddyurappa said.
Speaking to reporters in Madikeri, he said the intention was to seek a clarification from Rahul Gandhi about his stand on releasing Mahadayi river water.
Rahul Gandhi will kick start his campaign for the coming assembly polls on February 10.
During his three-day visit, the first after being made All India Congress Committee chief, he will address a mega conference and conduct a road show.
Stating that party workers are being informed about the bandh, Mr Yeddyurappa said BJP was not calling for a state-wide bandh, but for a bandh in those districts on the day Rahul Gandhi would visit them.
"It is to show to Siddaramaiah who is playing politics, that we also know how to play politics as a national party.It is also with an intention to resolve the Mahadayi river water dispute. We are still ready to put in our efforts towards finding resolution, but it is Siddaramaiah who is causing obstruction to it," he added.
Rejecting BJP's charges that the bandhs were instigated by the ruling Congress, Mr Siddaramaiah has termed it as baseless.
Stating that neither Congress nor the government has anything to do with the bandh, he had earlier asked BJP to request Kannada organisations against organising the bandh.
Mr Yeddyurappa alleged that Mr Siddaramaiah was indulging in this kind of act purposefully with an intention that Mr Shah's programme should not succeed. "But the programme will go on as planned," he said.
Questioning the silence of Rahul Gandhi and Sonia Gandhi on the issue, he alleged that Mr Siddaramaiah too has not done anything to convince Goa Congress on the matter.