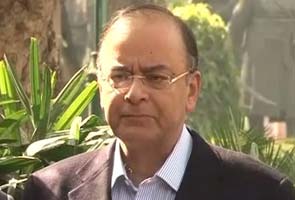 New Delhi:
After repeated disruptions by the Samajwadi Party (SP) and the Bahujan Samaj Party (BSP), the Rajya Sabha was adjourned for the day today. The Upper House will begin debating the FDI issue tomorrow and a voting will take place on Friday. Leader of the Opposition in Rajya Sabha, Arun Jaitley, accused the government today of disrupting the House as it doesn't have the numbers.
"Everyday, members from the ruling side and supporting parties go to the well of the House. We have a lurking suspicion that government is not sure which way the vote will go in Rajya Sabha. We want the Leader of the House to clearly spell out the intention of the government," Mr Jaitey said.
Congress leader Rajiv Shukla said the suggestion was ridiculous. "I am amused at the statement of Arun Jaitley that the government is disturbing the house. It is ironical that Mr Jaitley says this. It is ridiculous. Since the winter session began, they disturbed it regularly. The SP and the BSP kept their issues in the house... For the first one and half week they did not let Parliament run," said Mr Shukla.
The House had to be adjourned for the day following protests by the Samajwadi Party over quota in promotion for SC/ST in government jobs.
The House was earlier adjourned till 12 noon when the Bahujan Samaj Party (BJP) demanded a memorial for Dr Bhimrao Ambedkar in Mumbai. When the house met, BSP chief Mayawati asked the government to explain by when it would complete construction of the memorial. Her party members did not let question hour proceed. After the house reconvened, Minister of State for Parliamentary Affairs Rajeev Shukla promised to give a statement on the issue by Thursday, but then the Samajwadi Party members gathered near the chairman's podium and started raising slogans against reservation in promotion.
In the Rajya Sabha, the government is in a distinct minority and the ruling coalition may have to persuade outside supporters BSP (15) and SP (9) to vote with the government. The House has a strength of 244. Along with its allies, the UPA has a strength of 94 members. The 10 nominated members may go ahead to vote with the government. Among the seven Independents, three or four may support the government. The government is said to be talking to smaller groups too in the Rajya Sabha to make up numbers.