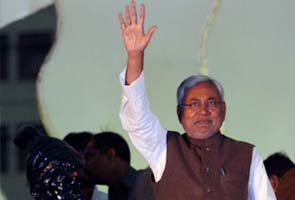 Muzaffarpur:
In a forceful message to the Centre, Bihar Chief Minister Nitish Kumar today said that the special category status for Bihar was a matter of "right" for the state and its people and not "begging for alms".
"The special category status demand is the right of people...We are pursuing our rightful demand and not seeking the same as alms," he said at a public meeting in Muzaffarpur. In a stern warning to the UPA government, Mr Kumar said that the people will teach those opposed to the demand a lesson in the 2014 general elections.
The Chief Minister, who is undertaking nearly a month-long 'Adhikar Yatra' since September 19, said that the next government at the Centre would be formed by only that party which would grant special status to Bihar.
Stating that the grant of special right was a must for all-round development of Bihar, Mr Kumar said that the measure will fast track development activities.
"Whatever development has taken place in Bihar has taken place with the state funds," he claimed.
"Once the special category status was accorded, there would be additional funds at its disposal for pumping in development activities," he said.
"The private investors will also come to Bihar in a big way as they will stand to get various tax benefits after grant of special status to the state," Mr Kumar said.