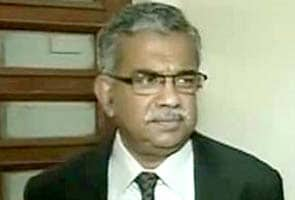 New Delhi:
EK Bharat Bhushan, who was unexpectedly asked to quit as the chief of the Directorate General of Civil Aviation (DGCA) earlier this week, has been shifted to steel ministry as Additional Secretary.
Mr Bhushan will take over as Additional Secretary and Financial Adviser (AS&FA) in the Steel Ministry, swapping postings with Machendranathan, who would join the Civil Aviation Ministry as the DGCA chief. Both Mr Bhushan and Mr Machendranathan belong to the 1979 batch of the IAS, though the former belongs to the Kerala cadre and the latter to the Tamil Nadu cadre.
The government had given no explanation as to why Mr Bhushan, an officer known for his integrity and clean image, had been asked to step down as head of the body which supervises safety and implementation and other civil aviation regulations, and that too just days after his tenure had been extended by six months. Civil Aviation Minister Ajit Singh had only said that there were procedural lapses in Mr Bhushan's appointment.
Mr Singh had reportedly asked the civil aviation regulator to resign, leading to questions if he, as the Aviation Minister, is empowered to do so.
Sources had said that Mr Bhushan may have been relieved due to what is believed to be a sour relationship between him and the Civil Aviation Ministry. Many within the ministry believed that Mr Bhushan was a little too straightforward for the liking of the government.
There has also been speculation that Mr Bhushan's recent warnings to Air India and Kingfisher Airlines to pay dues to their employees may have gone against him.
Mr Bhushan is widely known as one of the cleanest officers in the ministry and the man who unearthed the fake pilot scam last year. As the Director General of Civil Aviation, he brought in stringent measures to prevent airlines from compromising on safety matters on account of their financial trouble.
During his 20-month tenure as the head of the aviation regulatory body, the 57-year-old Bhushan handled a series of major cases of flouting of aviation rules, including the fake pilots scam and fudging of records by flying schools.