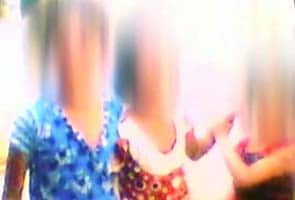 Bhandara, Maharashtra:
The mother of three little girls who were brutally raped, murdered and thrown into a well in a village in Maharashtra wants death sentence for the culprits. Only, no arrests have been made yet much to the anger of residents, who say they have stopped sending their children to school. (
Your comments
)
The young mother, a daily wage labourer who lost her husband four years ago, has been in deep shock ever since the bodies of her daughters - aged five, nine and 11 - were found in a well on Saturday last. They had been missing for two days. Finally able to speak, she says, "There is no point in leaving the culprits alive. They should be arrested and hanged in front of people for this heinous crime."
She has appealed for justice to the Chief Minister, who has promised Rs 10 lakh in compensation for the loss of all her children.
Top police officers are monitoring the investigation now and have offered a reward of Rs 50,000 for anyone who helps them make arrests in the case. But the villagers say the police had initially refused to even register a complaint and police officials admit they failed to gauge the grievousness of the crime.
"There were no external injuries on the bodies when fished out of the well. Even the clothes were intact. We did not suspect anything and were waiting for the post-mortem report," a senior officer said.
A local cop has been suspended for the delay in filing a report and the police has formed six teams to pursue leads. Police sources say three suspects were questioned and allowed to go yesterday.
In their modest house in Lakhni village in Bhandara district near Nagpur, where the family of the girls lives in abject poverty, their grandfather told reporters how his 11-year old granddaughter had gone to fetch her younger sisters from school last Thursday afternoon. He thought they were coming home "but someone took them away".
"My granddaughters were probably lured away on the promise of chocolates or Kurkure. Please find them and hang them," he said.
The family last saw the girls on February 14, the day the whole world celebrated One Billion Rising movement to fight violence against women. Two days later, on the evening of February 16, the cops found the bodies of the three children in a well on the outskirts of the village, next to a roadside dhaba or eatery. Their tiny slippers were found next to empty liquor bottles.
Follow NDTV for latest election news and live coverage of assembly elections 2019 in Maharashtra and Haryana.
Subscribe to our YouTube channel, like us on Facebook or follow us on Twitter and Instagram for latest news and live news updates.