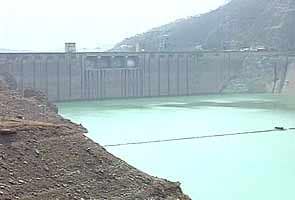 Chandigarh:
Water in the Bhakhra Dam reservoir - the life line of canals in Punjab, Haryana and Rajasthan - has touched a new low. With rainfall in the hills of Himachal 50 per cent below normal, both Bhakhra and Pong dams are depleted.
The Bhakhra Beas Management Board (BBMB) has put out advertisements in local dailies asking farmers and partner states to conserve water.
According to the latest data, the Bhakra Dam reservoir level is 64 ft below what it was last year and inflow is 24 per cent less than 2011. At the Pong Dam, the reservoir is 65 ft below the 2011 level and inflow is 45 per cent.
The board has already cut supply to canals by 10 per cent and will cut more if the situation does not improve.
"Due to slow melting of snow and scanty rainfall in Himachal, the water in reservoirs of both Bhakhra and Pong are much below our expectations. We have cut supply to partner states, and we will be forced to take even more stringent steps if situation doesn't improve," said SL Agarwal, Member (Irrigation), BBMB.
The last time there was such a crisis here was in 2004. Now, the Bhakhra board and the farmers are pinning their hopes on the monsoon.